GoodReads|Amazon|Barnes&Noble|BookDepository|IndieBound|BookShop
Arc was given by Oni Press & NetGalley in exchange for an honest review
This review is being published before the release date (March 1st 2022)
Content/Trigger Warnings: Stress about unemployment, depictions of aggression, pressure and guilt trips from overbearing parents, manipulation attempts from overbearing parents, subtle homophobia
Oh my goodness, I didn't think I would push this review out right away, but oh, sweet friends, I adore this graphic novel and I had to come shout about it from the roof tops! I adore this graphic novel so, so much. It's charming, pure, and will leave you on the edge of your seat, waiting for what's about to happen next. There's so much good in this book and honestly, this is probably my favorite graphic novel that hasn't been released yet. Hands down, a new favorite of mine.
Chef's Kiss follows our main character, Ben Cook, who's recently graduated college, moved in with his best friends, and now finds himself struggling to find a job. With overbearing parents breathing down his neck, Ben is feeling the claws of defeat, frustration, but mostly, unemployment scraping at his walls. When his eighteenth interview doesn't go as plan, Ben stumbles upon a hiring sign for a restaurant and suddenly, the future is looking a lot brighter… and conflicting.
"It's a tale as old as time. You're falling in love for your mentor!"
Truly, with my whole chest, I can't say enough how I loved the cast of characters (except you, Ben's parents). The cast of main and the side characters are so diverse with BIPOC characters, different professions, and a plethora of personalities. And despite his aggressive tendencies, I actually like Chef Davis with his banter and his love for the taste testing pig, Watson. Yes, you heard me correctly, taste-testing pig. And the fact that Watson has his own personality and a mischievous side to him just fills my heart with so much euphoria.
I think one of the things I truly loved the most about this graphic novel is the friendship Ben has with all of his roommates. What made me love these friendships the most was how the author displayed how messy friendships can be, but also the healthy side of friendships, where you address the issues that have happened or where someone was being a not so good friend and work through it. Every time I see healthy friendships in a any kind of book, I get all soft and mushy inside. And I really loved the support this group of friends have one another despite the hard moments that happen.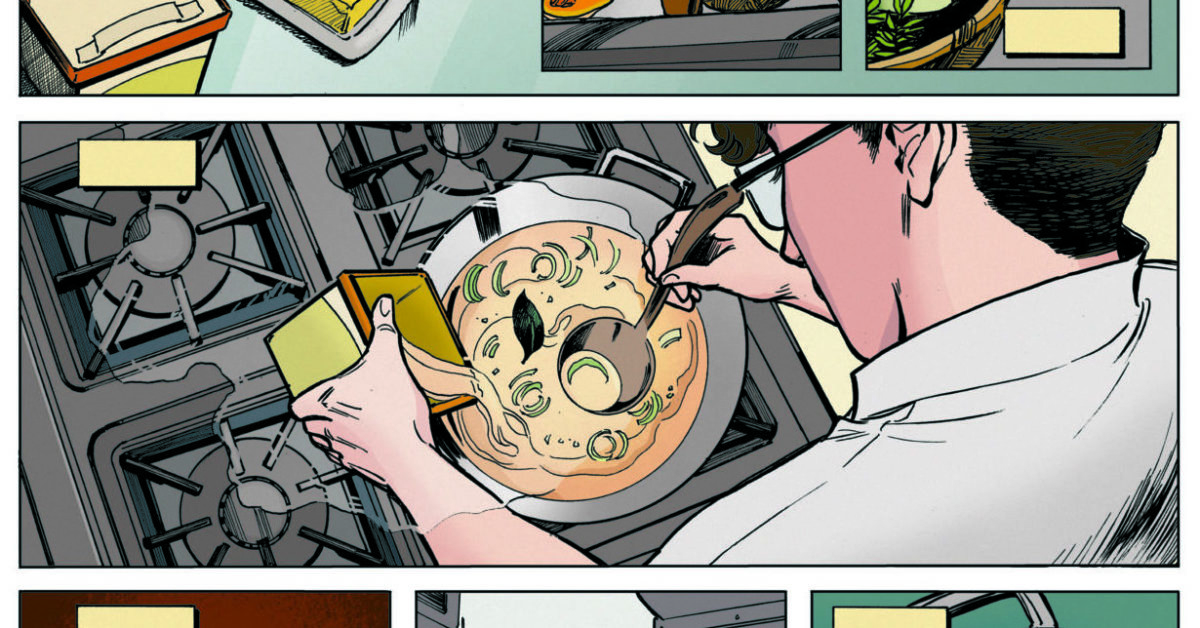 This graphic novel addresses what it means to be someone fresh out of college, looking for work and not having experience. How frustrating, tiring, and stressful it can be especially when you're trying to carve your own path as an adult. It's also about doing what's best for you and asking yourself "what do you want" instead of constantly catering to what everyone else wants especially when it comes to our own personal happiness. I really appreciated how beautifully and realistically the author wove these themes into the story. It felt so real and I know for my case, these themes were something that weighted heavy on me. So seeing that being represented in a graphic novel was such a big thing especially you don't see them shown in literature that often.
Of course, I have to gush about the art and the illustrations. If the cover of this book hasn't sunk it's claws into yet, wait till you actually open this graphic novel. It's simply stunning. At times it reminded me of other graphic novels I've read. I think that's why I was so easily captured by the art because every time I see this art style, I know I'm going to fall in love.
Overall, I'm just really in love with this graphic novel. I don't think I could make it any more simple. I truly, most ardently, love this graphic novel. I wasn't kidding when I said this was going to be one of my favorite reads. 2022 never looked brighter and I can't wait for more readers to pick this graphic novel up.
The quotes above were taken from an ARC and are subject to change upon publication.