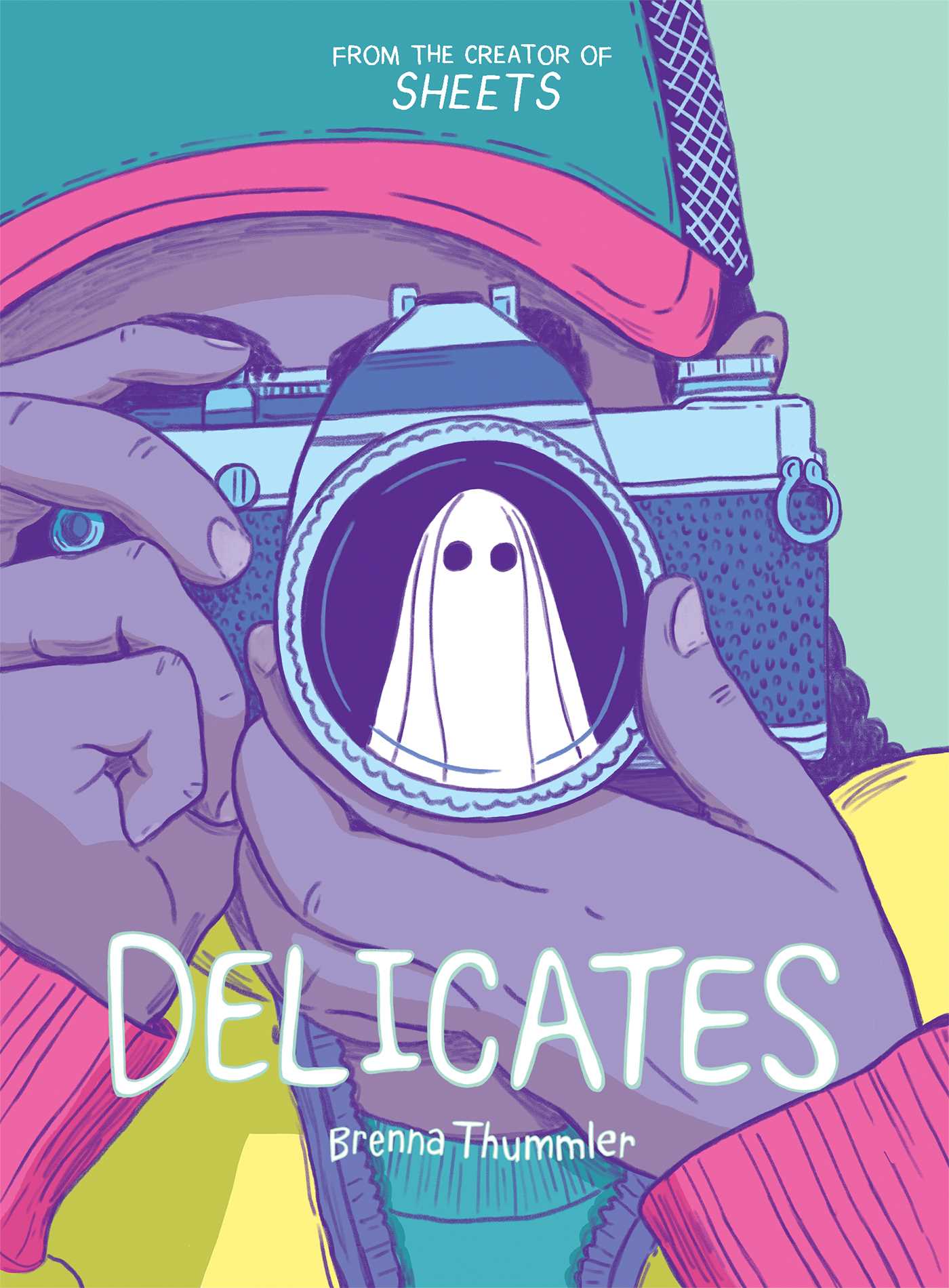 GoodReads|Amazon|Barnes&Noble|BookDepository|IndieBound
ARC was provided by NetGalley and Oni Press in exchange for an honest review.
This review is being published before the release date (March 16, 2021)
👻 Sheets ⭐⭐⭐⭐
Content/Trigger Warnings: Bullying, toxic friendships, manipulations, talk of death, mentions of racism, loss of a parent (in the past), loss of a loved one (in the past), allusions to depression, grief, depictions of suicidal ideation
"Except there's nothing more delicate than a life."
Friends, this graphic novel knocked my socks off! I really liked Sheets, but this Delicates was a whole other level for me. This graphic novel hit home in so many ways and I ended up in my feels. Brenna Thummler always has an important message in their books and the one in this graphic novel is so damn important. I just really loved this graphic novel so, so much and if you haven't started this series yet, please do!
Following the events that took place in Sheets, Marjorie, our laundromat girl who looks after the ghosts who live there, is back in an all new story about navigating friendships and what it to be a middle schooler who feels out of place. Also, we're introduced to a new character, Eliza Duncan, an avid photographer who spends most of her time in the school's dark room and ghost hunting for her next photograph. Eliza doesn't have any friends and through that loneliness (as well as Wendall), we see Eliza's story truly unfold.
I love the characters in this graphic novel. When Eliza's character was introduced, I instantly wanted to know more about her, about the backstory, and why Eliza likes to ghost hunt. I think many readers are going to enjoy Eliza's character and the way her storyline plays out. Of course, I love Wendall and Marjorie, and the friendship they share with one another. I love how it's not a perfect friendship, that there's bumps along the way, but I love how everything comes together with them. Also, I really enjoyed the intersecting storylines of Eliza and Marjorie. They have a really rough path, but the conclusion with them was really wonderful.
"Humans are delicate too. The teeniest mistake can ruin them, even if you do everything else right. Just because mistakes seem small and insignificant, doesn't mean they are."
Of course, I have to talk family dynamics. I feel that this is one aspect of this graphic novel series no one talks about a lot. Marjorie comes from a single parent household, a widowed father of two. In the first book we saw him struggle with grief and depression. Now in book two, we see the hardships of what it means to be a single parent and trying to start you life again after the loss of your partner. There's also Eliza's family, who's far from perfect. We see Eliza's parents struggle to find balance within their home life. From schedule struggles to trying to co-parent the best they can of three children, these two are tackling the hardships the best they can even if it does stir up some disagreements. I love family dynamics and I love family dynamics that show the more realistic side of what families go through instead of the typical "rainbows and sunshine" family trope.
As I mentioned above, this graphic novel deals a lot with mental health. I think many of us can remember a time in school where we experienced peer pressure, bullying, or maybe some of us felt like outcasts. And Thummler doesn't hold back from when we're going through those hardships. This opens up to the bigger discussion of suicide and how during this point in many teenagers lives, they feel like they've hit a rock bottom and find it impossible to get back up once they reach that point. For myself, reading this was really emotional because of the friends I've lost to suicide and from the low points I've reached in my past. And I truly believe this graphic novel is going to resonate with so many readers like it did with myself. Truly, this graphic novel is going to touch the hearts of so many readers.
"Life is a precious thing, dearie. It has skin that feels. And feet that can dance. And hearts that can love and be loved."
Overall, I loved this graphic novel so much. I love how there's so many important themes laced throughout this graphic novel, how many important discussions this will spark. Truly, this hits like a ton of bricks and so many readers will resonate with the messages in this book. And I just wanted to say that if you do feel like you're in a dark place, please reach out to loved ones or reach out to the Suicide Prevention Hotline. Please know that I see you, that you are loved, and that I'm so glad that you're here.
The quotes above were taken from an ARC and are subject to change upon publication.