GoodReads|Amazon|Barnes&Noble|BookDepository|IndieBound
ARC was provided by NetGalley and Kodansha Comics in exchange for an honest review.
This review is being published after the release date (October 20th, 2020)
What a supper cute, humorous manga! Typically I don't read a lot of fluffy manga, but in some case it really works well and this is one of those books. I adored the characters, their personalities are so memorable and easy to fall in love with. Even the side characters fit the perfect story. I'm truly surprised I haven't heard of this manga series sooner, but I'm super excited to continue this series and watch these characters fall in love with one another.
🎶 Himari Kino – Is a cheerful, very loving first-year in high school, who ends up falling in love at first sight on her first day at school, during the open live performance from SSGirls. With her best friend Miki-chan besides her and being in the front row, when she's suppose to check out Miki's sister, Himari can't help being swept off her feet by the cool singer of the band.
🎶 Yori Asanagi – Is a cool, lone wolf third-year high schooler, who loves to sing and write their own in their personal time, ends up filling in for the singer of SSGirls. With the members of SSGirls begging Yori to write them songs and join their band, Yori refuses due to severe stage fright, until they meet Himari. Soon, their world changes and be a little head over heels.
Though these two are new to love, we follow their story after they confessed their feelings to one another, as they get to know each other, chat about their love for cats, and become more entranced with one another. There's just one problem… They both have a hard time believing the other is really in love with them and keep misunderstanding one another's words.
"I'm going to make you fall in love so hard. So you better brace yourself."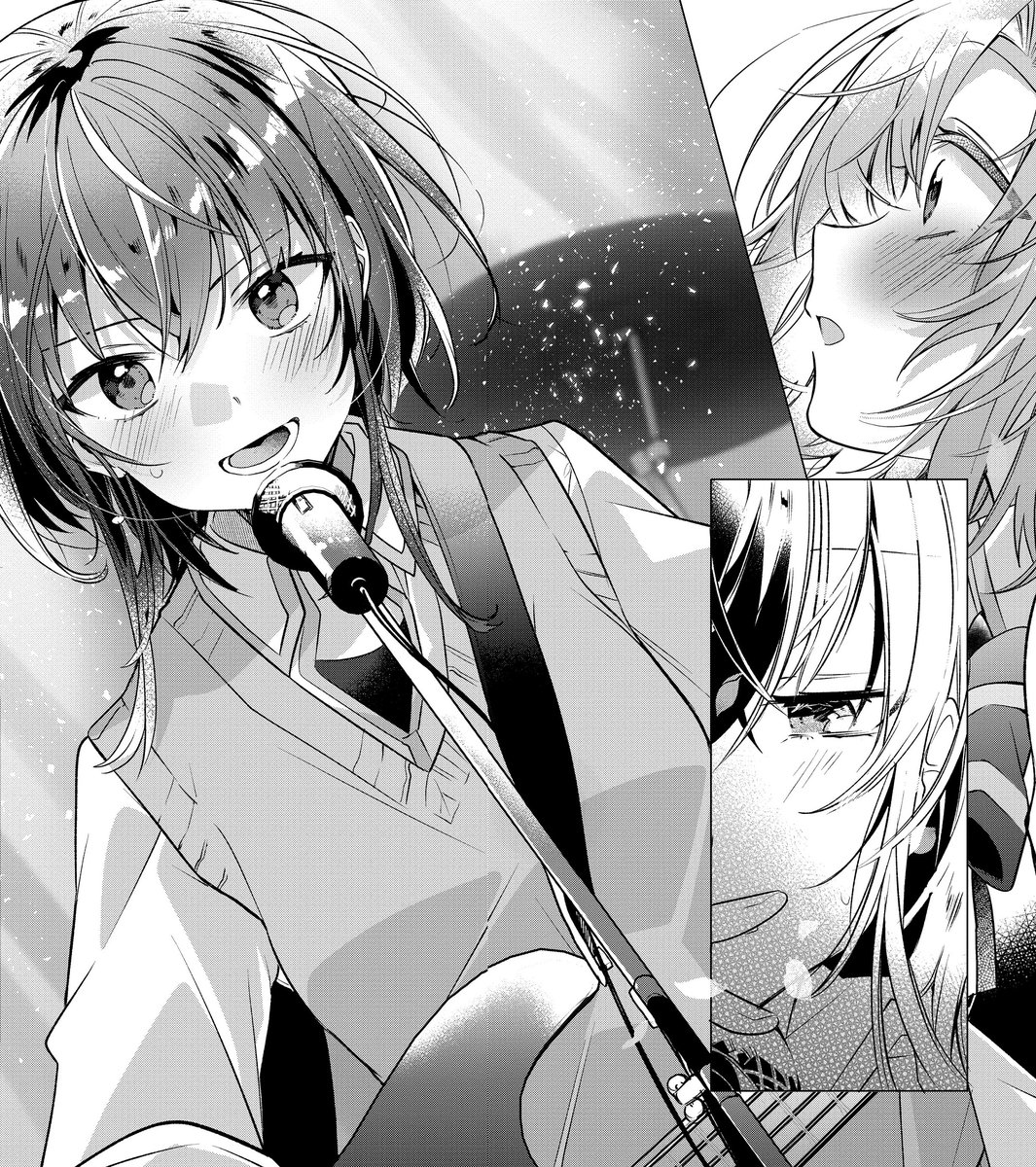 I really loved the personality of both main characters. Yori is calm and collected, but easily gets embarrassed and has a deep love for cats. Himari is very energetic and has a very bubbly personality. When the two come together, they balanced each other out really well and have great chemistry. I also love how Yori never gets over-shadowed by Himari's personality, as well. Himari is very much the instigator, Yori always speaks for herself, allowing both of them to be on equal footing. The process in which they grow closer is also super adorable and they have an amazing supporting cast with the side characters. I would have loved to see more of Miki-chan have a role in helping out, but the band is really fun and supportive of Yori.
This is very much a feel good story. It's meant to be light, fluffy, and the music angle was such a good hook to make Yori stand out. There's a lot of really cute moments throughout this book and the way Himari is so encouraging is refreshing. The way this manga leaves off, there's bound to be drama on the horizon especially from the trope that's being used in this book. However, I think the one issue many readers will have with this book is the clashing of two elements. You have the 'love at first sight' trope and then you have the 'two people not being on the same page' element added in. Sometimes it can feel like a bit much and I think many readers may struggle with that balance.
Overall, this was really enjoyable. I was chuckling and smiling the whole time reading this. I think the manga does an excellent job at being a feel good read. I think if readers are looking for something fluffy, charming, and just a read that's going to leave you happy. Plus, the way this manga ends will leave you wanting to know what's about to happen next with these characters!
The quotes above were taken from an ARC and are subject to change upon publication.