#5OnMyTBR is a bookish meme hosted by E. @ Local Bee Hunter's Nook
You can learn more about it here or in the post announcing it.
---
Salutations my friends! To all those who are new here, welcome! I'm happy to say that I'm feeling a bit better and will hopefully be getting back to a regular posting schedule. Starting with another 5OnMyTBR post! This took me forever to kind of figure out and I'm kind of guessing a bit with some of these picks. I wanted to make sure there was at least some form of friendship within these books, but I'm not completely sure. So, take this post with a grain of salt. However, I'm still very excited for some of these books! And I see you, all you lovely readers who have read that Leigh Bardugo book, shouting at your screen, saying, "Why haven't you read this yet?!" I know, but to be fair it hasn't been at the top of my list, sorry! Regardless, I hope you still enjoy this list and I'm always here for books with friendships!
---
🍂 The Beauty That Remains by Ashley Woodfolk 🍂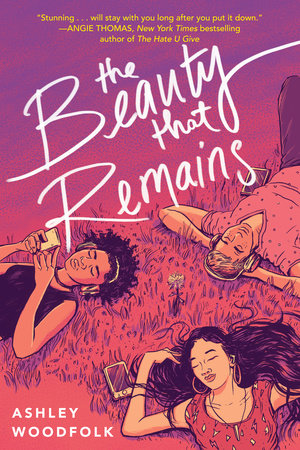 "Autumn always knew exactly who she was—a talented artist and a loyal friend. Shay was defined by two things: her bond with her twin sister, Sasha, and her love of music. And Logan always turned to writing love songs when his love life was a little less than perfect.
But when tragedy strikes each of them, somehow music is no longer enough. Now Logan can't stop watching vlogs of his dead ex-boyfriend. Shay is a music blogger struggling to keep it together. And Autumn sends messages that she knows can never be answered.
Despite the odds, one band's music will reunite them and prove that after grief, beauty thrives in the people left behind."
---
🍂 Six of Crows (The Six of Crows Trilogy #1) by Leigh Bardugo 🍂
"Ketterdam: a bustling hub of international trade where anything can be had for the right price—and no one knows that better than criminal prodigy Kaz Brekker. Kaz is offered a chance at a deadly heist that could make him rich beyond his wildest dreams. But he can't pull it off alone. . . .

A convict with a thirst for revenge
A sharpshooter who can't walk away from a wager
A runaway with a privileged past
A spy known as the Wraith
A Heartrender using her magic to survive the slums
A thief with a gift for unlikely escapes
Kaz's crew is the only thing that might stand between the world and destruction—if they don't kill each other first."
---
🍂 The Thing About Jellyfish by Ali Benjamin 🍂
"After her best friend dies in a drowning accident, Suzy is convinced that the true cause of the tragedy must have been a rare jellyfish sting–things don't just happen for no reason. Retreating into a silent world of imagination, she crafts a plan to prove her theory–even if it means traveling the globe, alone. Suzy's achingly heartfelt journey explores life, death, the astonishing wonder of the universe…and the potential for love and hope right next door."
"Oddlot Entertainment has acquired the screen rights to The Thing About Jellyfish, with Gigi Pritzker set to produce with Bruna Papandrea and Reese Witherspoon."
---
🍂 Night of the Dragon (Shadow of the Fox #3) by Julie Kagawa 🍂
"Kitsune shapeshifter Yumeko has given up the final piece of the Scroll of a Thousand Prayers in order to save everyone she loves from imminent death. Now she and her ragtag band of companions must journey to the wild sea cliffs of Iwagoto in a desperate last-chance effort to stop the Master of Demons from calling upon the Great Kami dragon and making the wish that will plunge the empire into destruction and darkness.
Shadow clan assassin Kage Tatsumi has regained control of his body and agreed to a true deal with the devil—the demon inside him, Hakaimono. They will share his body and work with Yumeko and their companions to stop a madman and separate Hakaimono from Tatsumi and the cursed sword that had trapped the demon for nearly a millennium.
But even with their combined skills and powers, this most unlikely team of heroes knows the forces of evil may be impossible to overcome. And there is another player in the battle for the scroll, a player who has been watching, waiting for the right moment to pull strings that no one even realized existed…until now."
---
🍂 Running with Lions by Julian Winters 🍂
"Bloomington High School Lions' star goalie, Sebastian Hughes, should be excited about his senior year: His teammates are amazing and he's got a coach who doesn't ask anyone to hide their sexuality. But when his estranged childhood best friend Emir Shah shows up to summer training camp, Sebastian realizes the team's success may end up in the hands of the one guy who hates him. Determined to reconnect with Emir for the sake of the Lions, he sets out to regain Emir's trust. But to Sebastian's surprise, sweaty days on the pitch, wandering the town's streets, and bonding on the weekends sparks more than just friendship between them."
---
As I mentioned, take this post with a grain of salt. Aside from two books on this list, I'm not sure if the rest counts. However, I've read quite a few books with friendship themes that I want to recommend to all of you. So please check them out if these books capture your attention!
➸ The Weight of the Stars by K. Ancrum
➸ The Adventure Zone: Murder on the Rockport Limited by Clint McElroy
➸ Watakoi Love is Hard for Otaku by Fujita
➸ There Are Things I Can't Tell You by Edako Mofumofu
➸ Ghost Squad by Claribel A. Ortega
➸ Alaskan Christmas Redemption (Home to Owl Creek Book 3) by Belle Calhoune
➸ The Inn Boonsboro Trilogy by Nora Roberts
➸ In An Absent Dream (Wayward Children, #4) by Seanan McGuire
These are just a few of the books that have friendships that filled my heart with so much love and many feelings. I hope you check them out and give them a chance. Do you have a favorite book that has a friendship in it? Come chat about it with me! Until next time, happy reading on this Monday, I love you! 💛