The questions from this post were taken from a beautiful instagram template created by @jessbetweenlines.
---
Salutations friends and new friends! I hope you're all staying safe, staying hydrated, and taking the time to pause to enjoy the little things. Today I wanted to do something a little different than my typical bookish posts. Recently, a lot of new readers have come to my little corner in the book community and I wanted to do something that allows you to get to know me better. Typically, I don't share a lot about myself, my personal life, etc… and unless you pay close attention to some of my reviews, these type of posts are pretty rare. So, I thought I'd give you a little glimpse into my life and a little peek into my thoughts. Okay, enjoy! 💛
---
🍂 Top Three Books of All Time 🍂
This is an insanely tough question. Mostly due to needing to reread a lot of the books that I love. So, I'm going to tweak this question a little to fit the top three books that mean the most to me thus far in all my reading, with one prediction added in the mix.
➸ The Only Good Indians by Stephen Graham Jones
This book was such a wonderful read, but this book is so special because Stephen Graham Jones was the first author I ever interviewed. And that may seem a bit silly to have a book feel special in that sense, but for myself, it was one of my proudest moments. It was also a really big learning experience for me because I got to sit down with someone who's wiser than I am and learn about an important thing they created. It was just an experience I'll never forget and this book means a whole lot.
➸ Wicked As You Wish (A Hundred Names for Magic #1) by Rin Chupeco
This is another book that means so, so much. Wicked As You Wish was my first book blog tour. When I had first applied to the tour, so many had already applied and I wasn't expecting to get pick, but I did. When I got the chance to talk with Rin and thank her for making me a part of her street team, she talked about how she liked to include big and small content creators. It touched a soft spot in my soul and it was something that impacted me so much that those words made this book even more special to me. Words have always been impactful for me, but Rin really hit the nail on the head.
➸ Crenshaw by Katherine Applegate
I've talked about this book a few times on my blog, but I feel like I don't talk about it enough. This is one of those books I wish I had in my childhood. I think it would have made so many things easier and made a difference in my life. However, I can't recommend it enough because it addresses a topic that's so important to touch on. This is just one of those book where there's not enough words to describe how a book touched your soul.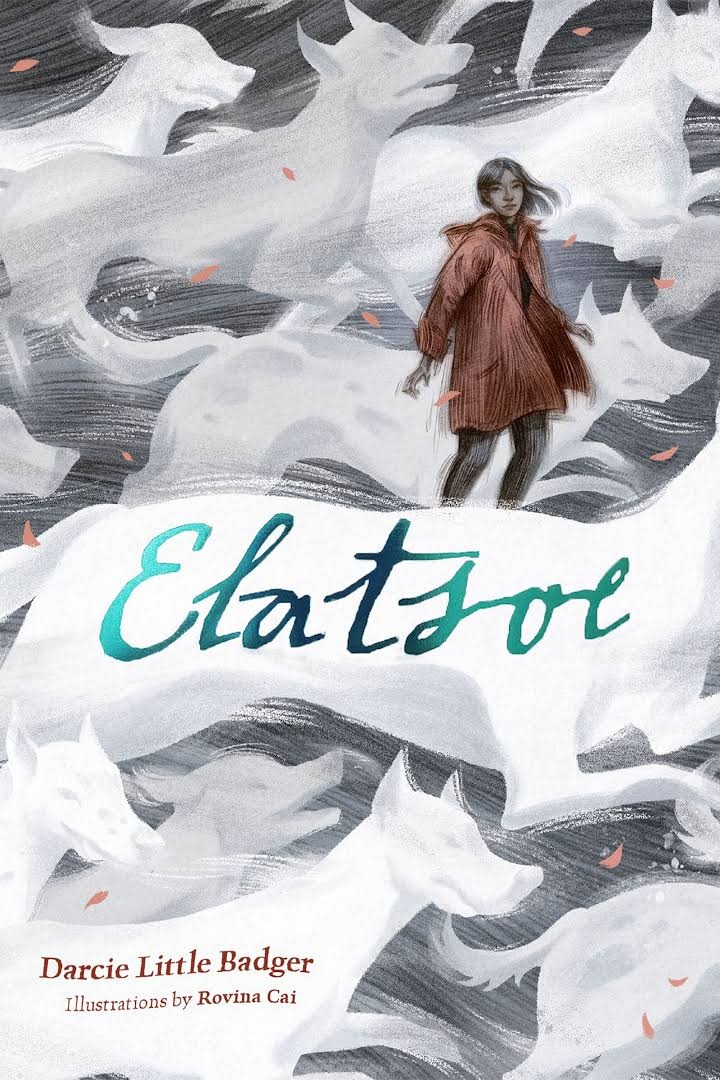 ➸ Elatsoe by Darcie Little Badger
And my prediction book. I have no doubt that this book is going to make me feel seen, finally read a book with an Apache main character who's written by an Apache author. I just can't express how high my expectations are for this book and how I have no doubt this book is going to make my heart feel so full.
---
🍂 Top Three Places I want to Travel to 🍂
I love traveling, but it's a bit of an Achilles' heel for me. There are so many places I would love to visit, things to experience in those places, but I get really sick when I travel. So I don't travel too often or too far away. I think the furthest I've ever traveled has been to New Hampshire.
But there's so many places I want to visit and it's been a hot minute since I've sat down to really look at my travel bucket list. So, I'm just going to list the first three that come to my mind.
➸ Japan – Just in general I would love to go to Japan. I love the culture, I really enjoy learning the history of Japan, and my childhood best friend has been trying (to convince me to get on a plane) for all twenty years of our friendship to fly back with him and his family to Japan when they need to maintain their residency.
➸ Ireland – This is more so for my spouse because my spouse's family has a deep Irish heritage. Unfortunately, they ended up missing traveling to Ireland with the rest of their family due to preparing for deployment, at the time. So, I'd really love to go with my spouse or as a whole family. I've only heard bits and pieces from various family members, but I really want to know more about their heritage and their family history.
➸ Hawaiʻi – I think every one I know has been to Hawaiʻi at least once. I've had a lot of family members travel there for gatherings and such. However, my main reason for going there is for two main reasons. My first being a dear friend of mine is often out there studying the flora and fauna of the island, and she has been wanting me to come out, experience the beauty of the island as a whole, and to in a sense, wants to pick my brain. The second reason is a bit of a selfish desire and that's to learn more of the culture, speak with and learn from true Natives of Hawaiʻi.
---
🍂 Dream Place to Live 🍂
New Hampshire calls to me and all I want to do is build a house on the side of a mountain, in the middle of the woods, surrounded by nature. Truly, that's the dream.
---
🍂 A T.V. Show I'm Obsessed with 🍂
I don't really watch a lot of t.v. or movies anymore. I used to watch a lot of Friends, Gilmore Girls, Criminal Minds, a lot of anime shows, but if I ever watch t.v. shows, I'm doing reruns for these. Soo not a lot going on there.
However, I do watch Terrace House and a few other shows in Japanese with my childhood best friend. He and I will video call each other and watch the shows together when we both have the time. Sometimes his two brothers will join in and it'll feel like we're having our traditional misfit night.
So that's about it for t.v. shows. I know, not much going on when it comes to t.v. shows.
---
🍂 Last Three Songs I Listened to 🍂
This is so hard because I listen to music all the time. Seriously, I have no chill when it comes to music. So these are the last three I remember listening to off the top of my head, but I don't know if they were the last three songs I had listened to.
➸ Champions of Red Wine by The New Pornographers
➸ Wolves (Said the Sky Remix) by Selena Gomez & Marshmello
---
🍂 Three People I'd Love to have Dinner with, Dead or Alive 🍂
So I've thought about this a lot and I'm just going to list actual people because I want to branch away from some of the more bookish answers. Plus, I could make a list that goes on and on if I used bookish characters.
➸ Robin Williams
➸ Elizabeth Taylor
➸ Roseanne Supernault
---
🍂 Favorite Movie of All Time 🍂
I have so many movies I love with my whole heart. So it's hard to just think of one to choose. Now and days, it takes a lot for me to really love and enjoy a movie. I think the last film I ended up watching was Joker and absolutely fell in love with it, and the mental health representation in that film.
However, I think my absolute all time favorite is Clue. It holds a lot of memories I'm fond of and it's a film I hold close to my heart because of the sentimental value I found in it. And just a lot of other personal reason on why this film just means a whole lot, why I watch it so often, and why it's a film that'll stay with me forever. Plus, Tim Curry stars in it and no one does it like Tim Curry does.
---
🍂 Favorite Board Game 🍂
This is another hard question! My spouse and I play a lot of board games and have two book cases filled with various games that we play, play with friends or family. It's so hard to choose one because each game is so unique and different compared to the others. But I think my most favorite board game has to be Betrayal at House on the Hill. It such a good game, the board continuously changes, and it's just a fun time especially for spooky season.
---
🍂 Ultimate Comfort Food 🍂
My one true food love! Nothing else can compared to gooey, cheesy, yummy goodness!
---
🍂 A Celebrity/Literary Crush of Mine 🍂
Oh jeez, I feel like this is taking skeletons out of the closet or something. Okay, I'm just going to drop this here and go hide.
---
🍂 Favorite Season 🍂
---
🍂 Favorite Holiday 🍂
---
🍂 My Signature Scent 🍂
Oh jeez, this question always makes me feel weird because I've always had the weird experience of people smelling me and telling me how nice I smell. So it's a really awkward and odd question for me. I don't know if I really have a signature scent though. However, there are some scents I frequently use in my day to day life.
I think the scent everyone finds around me is always vanilla or peppermint (anything mint in general). I have a lot of candles, sprays, air fresh sprays, even when I cook a lot of dessert or make homemade teas, I have a lot of vanilla and mint. Those are probably the most common scents you'll smell when you're around me.
However, not many people expect it, but I use a lot of evergreen or pine and lavender scents, as well. These are the scents I tend to break out for evening events, preparing for sleep, or basically any time I'm anxious. These are calming scents for me, while the first two scents make me wake up.
---
🍂 Describe You Ideal Day 🍂
That gif right there in my perfect day. I love fall days and rainy fall days, but there's something about a snowy day that makes things wonderous and magical. It's just something I really love and miss dearly.
---
🍂 Something I'm Proud of 🍂
This might be the hardest question of this whole thing. I know we're supposed to look back on the things we've accomplished, but I'm having a hard time doing that. Maybe it's from feeling like I haven't accomplished many things this year or maybe it's from looking at things as stepping stones instead of accomplishments.
If I really had to say, I think I would say the time I spent with the Social Distance Book Fest, interviewing Stephen Graham Jones, and I guess if I had to pick something that's a work in-progress then I'd say finding my safety and voice again. These were all wonderful things that happened to me and if I take a step back, they kind of feel like accomplishments in their own way.
---
🍂 Five Things I Love About Myself 🍂
Okay, okay… I know I can't dodge this question, though I wish I could. I find it a lot easier to find the good qualities in others than in myself. To quote Fruits Basket, "Maybe the reason you don't see it is that it's stuck to your back. What I mean is, a person's admiral qualities – they're just like, say, a pickled plum on a rice ball." That's kind of how this feels like. So I'm going to give this the ole' college try!
➸ I think I'm a good person and care about people a lot – sometimes a little too much and sometimes I wish I could turn the dial down just a little bit.
➸ I'm good with animals. – A trait I've had every since I was a kid.
➸ I guess I should say I'm a good singer, but I haven't sung competitively or with a tutor/choir in a long time.
That's three! I got three! Okay, I'm going to run and hide now.
---
🍂 Some Blogs I Love 🍂
Oh I love this! I love spreading my love for other blogs and I hope you all check them out! Okay, I'm going to try and link a few and not turn this into a 'boost every single blog I love' kind of post.
➸ Emer @ A Little Haze Book Blog
➸ Destiny @ Howling Libraries
➸ Destiny @ My Honey Reads
➸ Kayla @ Books and Blends
➸ Robin @ Paperbacks and Planners
➸ Sofi @ A Book A Thought Blog
---
🍂 My Ten Most Used Emoji 🍂
🌻💗💜😂🥺🥰🐱🐉🔥🙈
---
🍂 Favorite Childhood Memory 🍂
Oh boy, this hit a certain kind of way. I'm just going to put horseback riding and reading because those two things have always been an escape for me. I've mentioned a few times, but my upbringing wasn't the easiest or kindest. So, yeah. NEXT!
---
🍂 My Biggest Pet Peeve 🍂
If we're talking bookish then it has to be borrowing someone's books and returning them damaged.
If we're talking in general then I'd say cutting someone off while they're trying to talk especially if they're someone who struggles with letting their voice be heard or even speaking, and they get cut off in mid sentence.
---
Whew! Those were a lot of questions, but I hope you all got to know me a little better. This is the type of post that's out of my comfort zone and I just wanted to do something a little different for all the new readers in my little corner of this community. It means so much and I'm really happy to have you here. 💛