GoodReads|Amazon|Barnes&Noble|BookDepository|IndieBound|BookShop
ARC was provided by NetGalley and DC Entertainment in exchange for an honest review.
This review is being published after the release date (November 3rd, 2020)
Content/Trigger Warnings: Talk of death, talk of suicide and suicidal thoughts, scene of attempted suicide, loss of a loved one (in the past), loss of a parent (in the past), grief, PTSD/trauma, terminal illness
"So. Fire. Ice. Both hold the power to snuff out life. But love. Stronger than fire, more powerful than ice. Where love surrounds, life abounds."
I don't talk about it often, my love and appreciation for one of the saddest love stories in all of the Gotham Universe. While there are many love stories, many ships and pairings that happen, none of them quite compare to the love story of Victor and Nora. Victor Fries/Mister Freeze is probably one of my most favorite Gotham "villains" and truly, he's just a man on a mission to save the one he loves. Being able to read this graphic novel in advance and see a whole new take on Victor and Nora makes me fall in love with this couple all the more. Also, I now have a deeper appreciation doe these characters and their younger side
Our story follows Victor, a cryogenicist, who's headed to Gotham Cemetery to visit his brother's grave, as his grief and trauma weigh heavy on his shoulders. Nora and her family have just moved to a new house in Saint Agnes, to be closer to where her mother is buried. Upon their arrival at the new house, Nora decides to go visit her mother's grave. Thus, these two characters cross paths and spark a very unusual conversation between one another. From here on out, these two will be pulled two one another and a romance will slowly bloom between them.
When I say I loved these two characters and how they come together, I mean I really loved these two characters come together. Victor isn't like your typical love interest. He's very soft spoken, brilliant, and so compacted with love and passion. And Nora, she's one hell of a firecracker. She's whimsical, sarcastic, and she brings people out of their shell. These two balance each other out incredibly well. The chemistry shared between them is apparent from the very beginning, despite the unusual conversation. I don't talk about it enough because it's such a fifty-fifty chance, but I like to believe there are the cases where two broken people can heal one another, love each other so fiercely and deeply, and make the world seem a little brighter. And I truly believe with my whole and soul that Victor and Nora are one of those relationships.
What I truly love most about Victor and Nora's relationship is their love. Out of all the love and relationship pairings, none shine quite as bright as this particular relationship. These characters love one another so beautifully, so deeply, and I don't think here has ever been a relationship in the Gotham Universe that had a more devoted partner than Victor when it comes to Nora. For those who aren't familiar with the DC Universe or the Gotham Universe, Victor gave up everything for Nora. His love for Nora basically consumed him to the point of the only thing that has ever mattered has been finding a cure for Nora. Victor never cared if he came off as villain or how his actions impacted the those around him, his whole world revolves around Nora and finding the cure. And seeing how Nora and Victor come to love one another in this book, despite knowing everything they both carry on their shoulders, their love for each other grounds them in those difficult times. I really loved that the author included those moments of grounding because it's so important to show how powerful love truly can be.
"Just, for years I've reached out to no one. And if anyone reached out to me… Well, I made sure to keep my heart protected. And then this girl comes along. And… and… She melts me."
Of course the story itself is very well done. I'm not sure if the author actually researched the story of Victor and Nora, but reading this graphic novel felt like author did. I loved how the author alternated the story between Nora and Victor's perspective. Most of the graphic novels out there only has Victor's perspective of everything. So it's a nice breath of fresh air to see Nora's side of things. It's also a nice change to see these this couple in their youth. Before Victor became Mister Freeze and before Nora became frozen. It's nice to see these two characters in love and being in their relationship with one another. And just the mundane things like hanging out with friends and arguing with family. We also see the harder, more difficult side of things concerning their mental health and Victor who's coping with his trauma and PTSD. I really appreciated see those sides of Nora and Victor. It's just nice to see that side of these characters before everything became intense in their story.
And I have to talk about the art because as always, Isaac Goodhart has such a beautiful art style. I really loved seeing the Tim Burton type of twist in the beginning. That was such a pleasant surprise and I think that was my particular favorite. However, the artist has a fantastic way of highlighting these scenes that are softer, kinder and the scenes that are intense like the panels where Nora is seeing the crow. The way those panels were designed with the shading and lighting really made for a great reading experience.
My only real issue with this graphic novel has to be the one key detail that's always remained true to Victor and Nora's story line. Victor and Nora were and always have been married when Victor froze Nora. While I'm not sure if this was an intentional change for the story, given the audience this graphic novel is trying to target, but this is one key element that should have been included especially since this could have impacted the way this graphic novel concluded. Even more so, it seems the scene of attempted suicide was included (which has never be a part of Victor and Nora's story) to replace the fact that Victor and Nora have been married. If you were to really look at the context of the graphic novel, we already see Nora and Victor fight over Victor suggesting he cryogenically freeze Nora until he can find a cure. Then the whole scene of attempted suicide comes in to play. In a way, depending on what you take away from this, all of these events lead to painting Victor in a negative light and making it seem like he was giving Nora no other choice than to be frozen. For my reading experience, personally, I would have preferred if we saw them elope or actually have a wedding ceremony compared to this one tweak of their story line. It comes off as hopeless, very negative way to lead into an ending for this graphic novel and I think it would have really benefitted this graphic novel to have a little more good scenes than fully wrap this graphic novel up on such a heavy note.
"But I don't care. I'm just happy to be alive. Happy to be in love."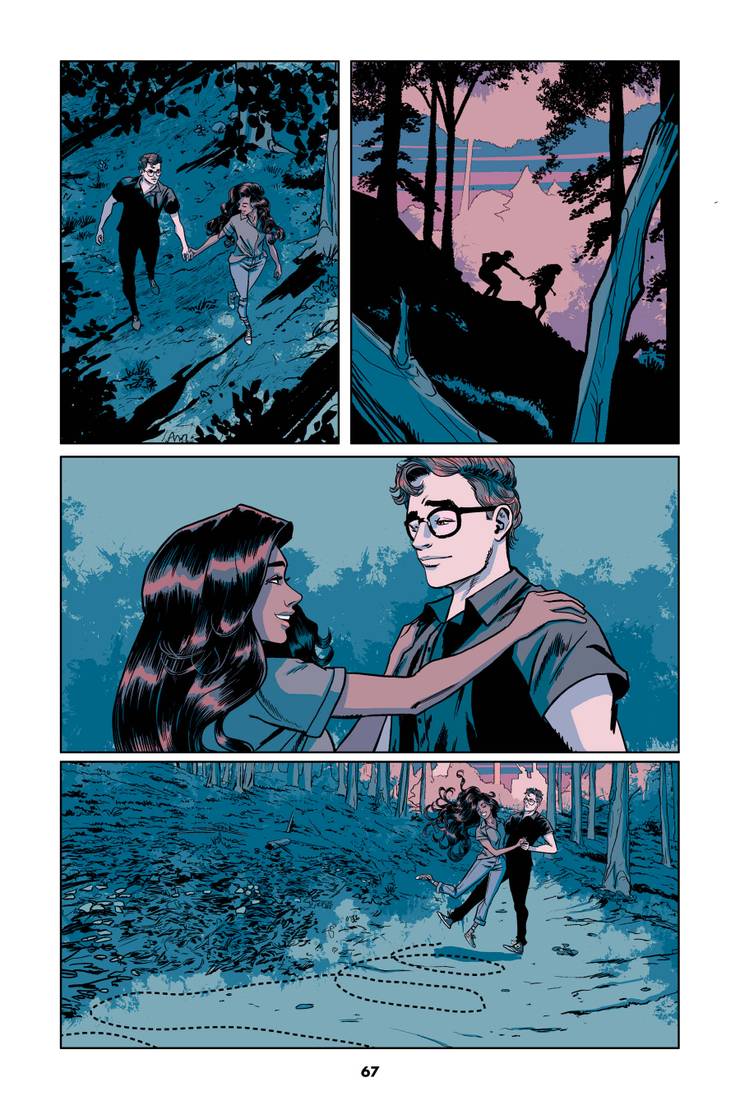 Overall, I really enjoyed myself reading this graphic novel. I definitely think the marriage panel could have been added in to help balance the heaviness of the ending and to also stay semi-true to Victor and Nora's original story. Also, I think this graphic novel shouldn't have been so heavy with the death and suicide elements. If this graphic novel is targeting a younger audience, I'm not sure if going the darker route was the best path to take especially when it concerns those who are typically reading middle grade level books. However, I really liked this. It was so refreshing to see these characters outside of their usual setting, you know, Victor being a villain and Nora being fully frozen. And if you couldn't tell, I just really love and appreciate the love story that is Nora and Victor's. My heart felt so full reading this. And I have to mention the mental health and trauma/PTSD representation was very well done. I really liked how we got see those pieces throughout the book. I definitely recommend this to those who enjoy the DC Universe or even the Gotham Universe. I especially recommend this to those who love Victor and Nora's relationship like I do. And of course, if you need a quick read or you're look for a new graphic novel to pick up then I have to recommend this graphic novel!
The quotes above were taken from an ARC and are subject to change upon publication.