#5OnMyTBR is a bookish meme hosted by E. @ Local Bee Hunter's Nook
You can learn more about it here or in the post announcing it.
---
Welcome back my friends! I know I said I would have more posts over the last couple of days, but my body decided to get sick. So I'm currently still sick, trying to rest and recover the best that I can, and hopefully once I feel more up to snuff I'll be able to start getting back into the swing of things. However, I do have my #5OnMyTBR for you today. Now most of these aren't centered around Halloween. For a lot of these, I wanted to go with atmosphere reads or ones that I assume would be very atmospheric to read during Halloween. There is one Halloween novella on here and I'm a little disappointed I haven't had the chance to read it yet, but cie la vie! Anyway, I hope you enjoyed the books I picked out and of course, I hope you're ready to get your spooky on this week! 🎃
---
🎃 The Guest List by Lucy Foley 🎃
"The bride ‧ The plus one ‧ The best man ‧ The wedding planner ‧ The bridesmaid ‧ The body
On an island off the coast of Ireland, guests gather to celebrate two people joining their lives together as one. The groom: handsome and charming, a rising television star. The bride: smart and ambitious, a magazine publisher. It's a wedding for a magazine, or for a celebrity: the designer dress, the remote location, the luxe party favors, the boutique whiskey. The cell phone service may be spotty and the waves may be rough, but every detail has been expertly planned and will be expertly executed. But perfection is for plans, and people are all too human. As the champagne is popped and the festivities begin, resentments and petty jealousies begin to mingle with the reminiscences and well wishes. The groomsmen begin the drinking game from their school days. The bridesmaid not-so-accidentally ruins her dress. The bride's oldest (male) friend gives an uncomfortably caring toast. And then someone turns up dead. Who didn't wish the happy couple well? And perhaps more important, why?"
---
🎃 Pan's Labyrinth The Labyrinth of the Faun by Guillermo del Toro 🎃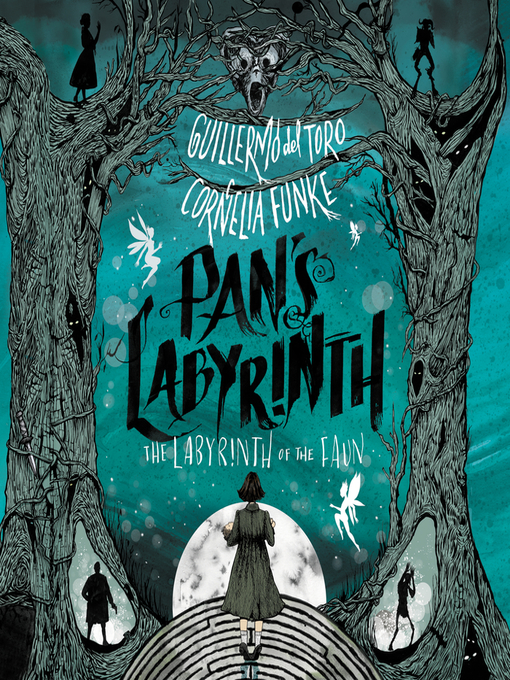 "Fans of dark fairy-tales like The Hazel Wood and The Cruel Prince will relish this atmospheric and absorbing book based on Guillermo del Toro's critically acclaimed movie.
Oscar winning writer-director Guillermo del Toro and New York Times bestselling author Cornelia Funke have come together to transform del Toro's hit movie Pan's Labyrinth into an epic and dark fantasy novel for readers of all ages, complete with haunting illustrations and enchanting short stories that flesh out the folklore of this fascinating world.
This spellbinding tale takes readers to a sinister, magical, and war-torn world filled with richly drawn characters like trickster fauns, murderous soldiers, child-eating monsters, courageous rebels, and a long-lost princess hoping to be reunited with her family.
A brilliant collaboration between masterful storytellers that's not to be missed."
---
🎃 Mating the Huntress (Monsters and Mates #1) by Talia Hibbert 🎃
"This Halloween, love bites back… hard.
Chastity Adofo knows a monster when she sees one. As soon as Luke Anthony wanders into her family's coffee shop, she recognises the evil lurking beneath his charming smile and fantastic arse. The handsome werewolf is determined to have her—but she's determined to cut out his heart.
Little does she know, Luke's plans for her are far more pleasurable than murder. And when the full moon rises, all bets are off…
Mating the Huntress is 30,000 words of red-hot, Halloween-themed romance. This novella contains one flirtatious, cursed creature of the night, one badass, knife-happy heroine, and forbidden lust at first sight. Please read responsibly!"
---
🎃 Delicates (Sheets, #2) by Brenna Thummler 🎃
➳ Publication: March 16th 2021 by Lion Forge/Caracal
ARC was provided by NetGalley and Oni Press in exchange for an honest review.
➳ Sheets by Brenna Thummler Review
"Marjorie Glatt's life hasn't been the same ever since she discovered a group of ghosts hiding in her family's laundromat. Wendell, who died young and now must wander Earth as a ghost with nothing more than a sheet for a body, soon became one of Marjorie's only friends. But when Marjorie finally gets accepted by the popular kids at school, she begins to worry that if anyone learns about her secret ghost friends, she'll be labeled as a freak who sees dead people. With Marjorie's insistence on keeping Wendell's ghost identity a secret from her new friends, Wendell begins to feel even more invisible than he already is.
Eliza Duncan feels invisible too. She's an avid photographer, and her zealous interest in finding and photographing ghosts gets her labeled as "different" by all the other kids in school. Constantly feeling on the outside, Eliza begins to feel like a ghost herself. Marjorie must soon come to terms with the price she pays to be accepted by the popular kids. Is it worth losing her friend, Wendell? Is she partially to blame for the bullying Eliza endures?
Delicates tells a powerful story about what it means to fit in, and those left on the outside. It shows what it's like to feel invisible, and the importance of feeling seen. Above all, it is a story of asking for help when all seems dark, and bringing help and light to those who need it most."
---
🎃 The Boy in the Red Dress by Kristin Lambert 🎃
"New Year's Eve, 1929.
Millie is running the show at the Cloak & Dagger, a swinging speakeasy in the French Quarter, while her aunt is out of town. The new year is just around the corner, and all of New Orleans is out to celebrate, but even wealthy partiers' diamond earrings can't outshine the real star of the night: the boy in the red dress. Marion is the club's star performer and his fans are legion–if mostly underground.
When a young socialite wielding a photograph of Marion starts asking questions, Millie wonders if she's just another fan. But then her body is found crumpled in the courtyard, dead from an apparent fall off the club's balcony, and all signs point to Marion as the murderer. Millie knows he's innocent, but local detectives aren't so easily convinced.
As she chases clues that lead to cemeteries and dead ends, Millie's attention is divided between the wry and beautiful Olive, a waitress at the Cloak & Dagger, and Bennie, the charming bootlegger who's offered to help her solve the case. The clock is ticking for the fugitive Marion, but the truth of who the killer is might be closer than Millie thinks."
---
I'm really happy with my choices. I think I picked some really good or interesting books. I do know that one of these books has been polarizing in the book community, but I would still like to read it to form my own opinions. I hope you enjoy my picks. Did any of these catch your interest? Do you want to see a review for any of these books? Come chat with me in the comments below! Until next time, I hope you're staying safe, and have a spooky week! I love you! 🧡