GoodReads|Amazon|Barnes&Noble|BookDepository|IndieBound
ARC was provided by NetGalley and Vertical Comics in exchange for an honest review.
This review is being published after the release date (September 22nd, 2020)
Content/Trigger Warnings: Homelessness, physical assault, gun violence, mentions loss of loved ones
Did I request this manga because I loved Your Name? Yes. Did I completely fall down a rabbit hole reading this manga and therefore need to know what's going to happen next? Also, yes! I really loved Your Name. It was a very emotional, whimsical series and movie. So naturally my interest was at an all high when I saw this was available for request. And this book didn't disappoint! It fully captured my heart and I think many manga readers are going to fall in love with this series, if they haven't already!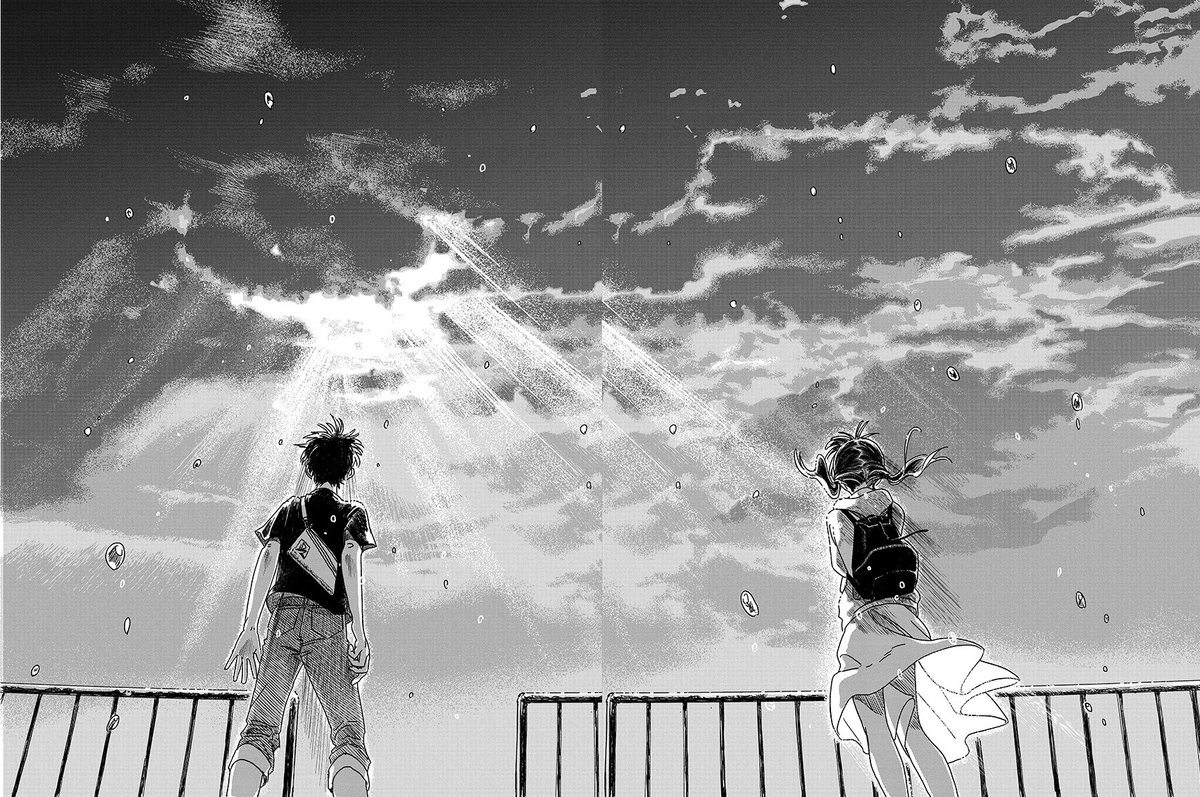 We follow a boy named Hodaka, who's run away from the island he grew up on, fleeing to the Kabukichō neighborhood of Tokyo to start a new beginning. However, Hodaka finds himself struggling to adjust to the new city and all the gloomy weather. Until he comes across a girl named Hina, who has a the special ability to bring out the sun, also known as a sunshine girl. Together they'll turn Hina's ability into a means of helping Hina gather funds to support herself and younger sibling, but Hodaka is keeping secrets and Hina is keeping her own.
"All this time, I think… I was chasing the light that you bring, Miss Hina."
I loved these characters so much. They're not your typical main characters who are fierce warriors or magical beings. They're just two kids who come from rough backgrounds, trying to survive in the big world. I love when characters are just like everyone else, but we get to see their hardships, they're struggles. It makes those characters feel more realistic and easier to connect to. And of course, the story line that pulls these two characters together is so beautifully woven. I loved seeing the small pieces of Japanese myths and legends tie in to the events happening and the characters.
Just like Your Name, Weathering with You has underlying themes to it. Looking at Hina's character in this book, he character is designed to show the weight that women often carry. Women are often expected to provide warmth, comfort, and happiness, more time than most being the caregiver of the household. Now, I don't want to spoil too much (especially for the anime), but the author does a brilliant job of showing this and how if affects women, how much energy the deplete from themselves, and the toll it begins to take on their bodies. I thought it was so beautifully done and I think this book shows the beginning of that process really well.
And of course, I have to talk about how stunning the art style is because it is gorgeous! The beginning of this arc we have one to two pages of colored art and it is everything. That alone had me gasping for breath. It so beautiful and I wish more manga had more little glimpses into colored panels. Even the black and white panels just really had an extra emphasis on the events happening throughout the book. The illustrator of this book is truly talented and I can't wait to see what they'll do next!
Overall, I really enjoyed this manga with my whole heart. I think the story line does a fantastic job hooking the attention of the reader, pricking the curiosity of those who want to know more. It truly is a beautiful story and I can't recommend this graphic novel enough. I hope my fellow manga readers will be picking this series up and if you haven't checked out this series yet, please do. It truly is wonderful!
The quotes above were taken from an ARC and are subject to change upon publication.