Salutations friends! October is here and I'm so excited! There's so much happening during the month of October and I'm just ready to curl up in a cozy blanket, drink some hot tea, and watch my favorite spooky movies. Also, this is usually the time of year where I'm hyperfunctioning. I tend to pack a lot into my schedule (personal and reading wise), birthdays and holidays start popping up, and my sleep schedule tends to be nonexistent. Despite all of that, I'm hoping my reading for the month of October is still going to be amazing, I'm hoping for some five star reads, and I have a special project, that I've kept top secret, hopefully being revealed during this month. I'm truly excited to see what October has in store for me! 🎃
---
🍁 Currently Reading 🍁
🍁 Ghost Squad by Claribel A. Ortega
April 7th, 2020 by Scholastic Press
Buddy Read with Kayla from Books and Blends 🧡
I've really been enjoying this middle grade. It's got the right amount of spooky, cozy vibes and there's cats! I love books with cats! Plus, the family bonds and content in the book truly warm my heart, and makes me feel so soft, missing my own family. It's just a precious spooky read so far!
---
🍁 October TBR 🍁
🍁 Sweet On You: A Filipino Christmas romance by Carla de Guzman
October 19th, 2020 by Carina Press
ARC provided by NetGalley and HARLEQUIN – Carina Press in exchange for an honest review!
This sounds like the cutest read and I'm so excited to have an earc of this! I really enjoy books that involve cafe settings and baristas. Plus, the love interest is suppose to be a baker and I'm truly hoping we see them come together with their businesses!
🍁 Slasher Girls & Monster Boys by April Genevieve Tucholke
September 6th, 2016 by Speak
I've had this on my backlist for a few years now and I'm hoping to finally read this during the month of October. This sounds like a perfect read for spooky season. With so many authors I recognize and one of my dear friends recommending this book to me, I can't wait to see the stories hidden within these pages!
🍁 His Hideous Hearts by Dahlia Adler
September 10th, 2019 by by Flatiron Books
Edgar Allan Poe is one of my favorite poets and I know he's one of the most commonly referenced writers during spooky season, but I have always loved Poe's work. So when I heard there was a retelling anthology out, I had to snag a copy. So, I'm keeping my finger crossed this spooky season that I can read it during the month of October.
🍁 Hollow Kingdom by Kira Jane Buxton
August 6th, 2019 by Grand Central Publishing
Another book that sounds absolutely amazing and a book that was gifted to me by my spouse. This sounds so good, has a unique perspective (one I don't think has been written from till this book), and it's supposed to be filled with humorous moments!
🍁 Capturing the Devil (Stalking Jack the Ripper, #4) by Kerri Maniscalco
September 10th, 2019 by JIMMY Patterson
Oh the shame! Can we just pretend this isn't really on my tbr for this month? I've been meaning to read this book ever since it released. Unfortunately, I've been avoiding this conclusion because I'm not ready for the reading hangover this book is going to put me in. However, this is one of the five books I'd like to read before the end of the year and I really need to get it read!
🍁 Mexican Gothic by Silvia Moreno-Garcia
June 30th, 2020 by Del Rey
Dragons & Tea Book Club October Pick 🐉
I'm so excited for this book! Everyone I know has really been loving this book, recommending it to me, and even though I'm not a big horror/thriller reader, I want to read this before I start placing this in the hands of those that I love and cherish.
🍁 Strange Grace by Tessa Gratton
September 18th, 2018 by Margaret K. McElderry Books
Buddy Read with Robin at Paperbacks and Planners 🧡
I've had this book on my backlist for a year and it's only recently that someone told me there's demons in this book. And so me being a lover of books with demons, I was screaming, "Hell yeah!" I've heard only good things about this book and I'm so excited to be buddy reading this book with my friend, Robin.
🍁 Ninth House (Alex Stern, #1) by Leigh Bardugo
October 8th, 2019 by Flatiron Books
Buddy Read with Robin at Paperbacks and Planners 🧡
Another buddy read with the lovely Robin! I have been looking for someone to buddy read Ninth House with. I've heard so much through the grapevine about this book that I didn't want to pick it up unless I was buddy reading it with someone. Robin being a lovely person, agreed to put this off till October so we could buddy read it together. I'm so grateful for her and I'm excited I get to read this with her.
---
🍁 Readathons 🍁
As you know, Latinx Heritage month is still continuing during the month of October. The last day is October 24th. I'm currently participating in the Latinx Book Bingo and after I finish Ghost Squad, I should have bingo on the board. The Latinxathon and Latinx Book Club are still taking place during the month of October, as well.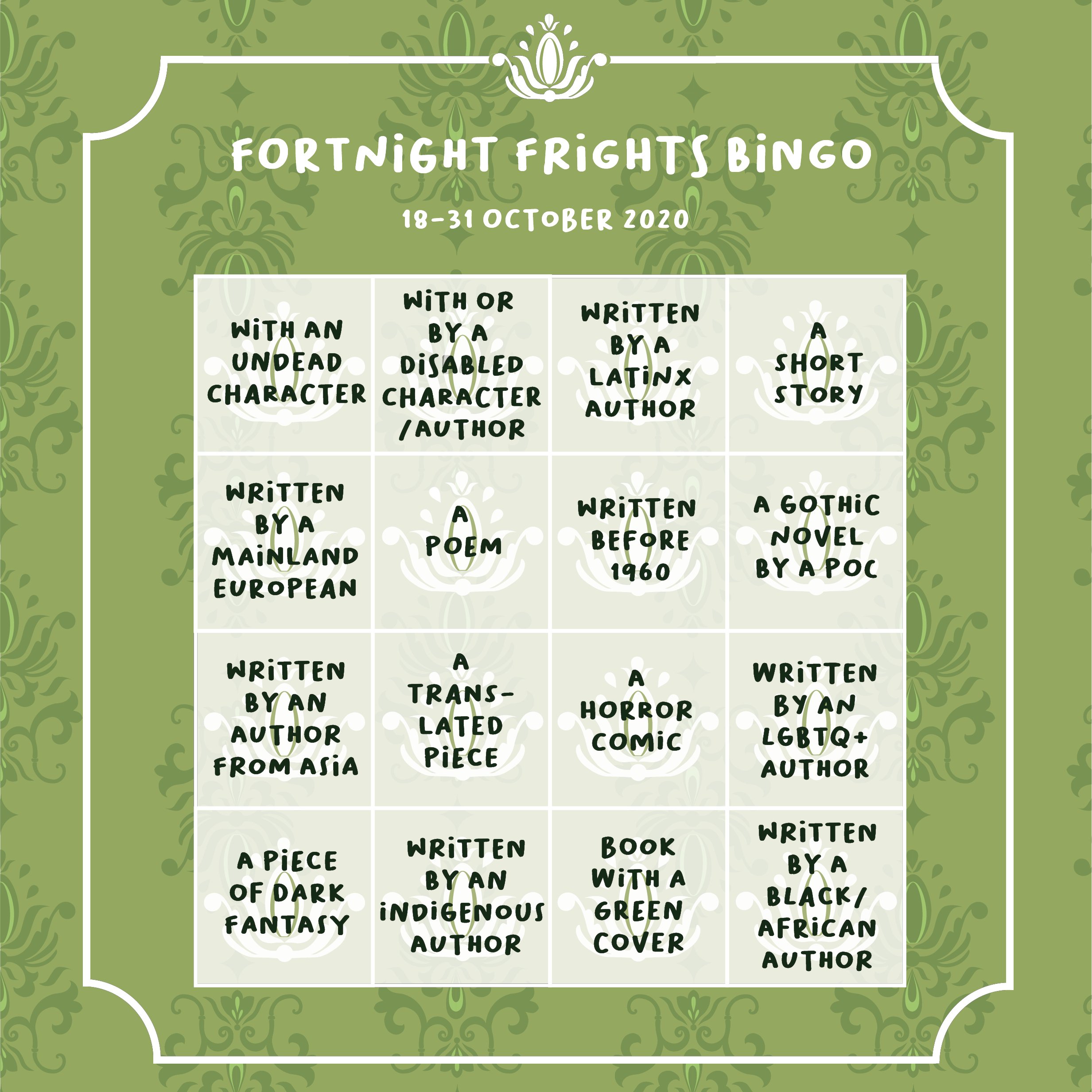 I know there's a few spooky readathons happening during October, but I wanted to highlight Fortnight Frights Readathon (which runs from Oct. 18th – Oct. 31st), hosted by Seji at The Artisan Geek. Seji has put so much time and effort into this readathon, they made an amazing announcement video, and can find all the announcement posts on the Fortnight Frights Twitter. I'm hoping to participate myself and I wanted to encourage you all to do the same.
---
Okay, Chapterlings! I have a pretty ambitious tbr for the month of October and it's probably going to be a very hectic month, to say the least. This doesn't even show all of the books I'm hoping to read for this month. There's so many books I'd love to read, share my thoughts on, or buddy read with fellow readers. Spooky season is truly my favorite time of year even though it's so brief, I want to savor it as much as I possibly can. What are your plans for the Spooky season? What books do you have planned for your tbr? Come chat with me about it in the comments below! Until next time, keep it spooky, I love you! 🧡