The Tag was originally created by Sam's Nonsense 🧡
---

Salutations fellow readers! I'm continuing on with another fallish book tag! I know, this is like my second or third one this week. I promise my regular content will be coming back soon, but for now, I hope you enjoy another fall book tag! Now lets dive into the questions!
---

🍂 Crunching Leaves: The world is full of color! Choose a book with red/orange/yellow on the cover. 🍂
I'm choosing Wicked As You Wish by Rin Chupeco! I loved this book so, so much! The world was beautifully crafted, very similar to Fables or Once Upon A Time, and there's a couple in here that I ship so hard. I'm eagerly waiting for the second book to be released in 2021.
---

🍂 Cozy Sweater: It's finally cool enough for warm, cozy clothing! What book gives you the warm fuzzies? 🍂
I'm going to choose the Inn BoonsBoro Trilogy by Nora Roberts! Not only is this a small town in Maryland, but the community is very close knit and the characters we follow in this series are all close to one another. This is one of my favorite series, the series I recommend all the time to those who want to get started with Nora Roberts, and it was my first series I read first by Nora Roberts. I hope you all give this series a chance and fall in love with these characters like I have!
---

🍂 Fall Storm: The wind is howling and the rain is pounding. Choose a book that you like to read on a stormy day. 🍂
The Bone Houses by Emily Lloyd-Jones was such a fantastic, atmospheric read! I love reading during stormy weather and I think this would be a great book to pick up during a fall downpour!
---

🍂 Cool Crisp Air: Makes you breathe freely. Who's the coolest character you'd want to trade places with? 🍂
This is the hardest question ever! Hmm… if we're talking about spooky reads or more fall themed reads, I think I'd want to be Taako from The Adventure Zone: Here There Be Gerblins! Taako is just a fun character who's sassy and hilarious!
---

🍂 Hot Apple Cider: Warm autumnal drink. What underhyped book do you want to see become the next biggest, hottest thing? 🍂
I feel like There Will Come A Darkness by Katy Rose Pool is such an underrated book! When this book first released, I heard a little buzz about it, but nothing more. I loved this book so much and that's coming from someone who doesn't like more than two povs. I loved the world building, I fell in love with a few of the characters, and the way this book ended left me wanting more! I truly can't recommend this book enough especially to my fellow fantasy readers!
---

🍂 Coat, Scarves, & Mittens: The weather has turned cold & it's time to cover up! What's a book cover you don't like? 🍂
I loved The Hearts We Sold by Emily Lloyd-Jones, but this cover doesn't do this book justice! It would have made more sense to have a chest with a knitted heart or something of that nature. I just feel that this cover could have been different and it would have been more beneficial.
---

🍂 Pumpkin Spice: Time for some Starbucks! What's your favorite fall comfort food? 🍂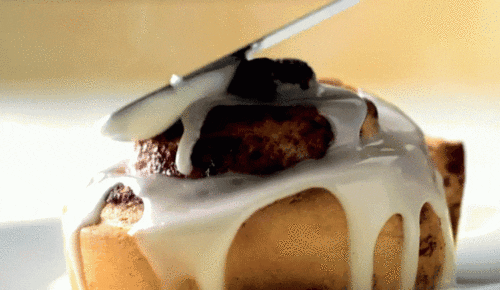 I love cinnamon rolls in the fall time especially freshly baked ones! There's something so comforting and delightful about a warm cinnamon roll on a crisp autumnal morning with a cup of coffee!
---

🍂 Warm, cozy bonfire: Spread the cozy warmth! Who do you tag? 🍂
I'm going to tag Robin, Emer, Dani, Kayla, Donna, and Lauren! And anyone else who sees this and would like to participate!
---
I hope you all enjoyed this little tag! I had so much fun answering these questions and it's perfect for the fall weather! Do you like doing seasonal book tags? If so, tell me your favorites down below! Until next time, stay hydrated, enjoy the change of the season, I love you! 🧡