I saw this on Paperbacks and Planners' blog and decided I had to give it a chance!
---

Salutations and welcome back Chapterlings! I wanted to take a small break from the usual reviews and posts to bring another tag to you. My wonderful friend, Robin at Paperbacks and Planners had this delightfully fall book tag on her blog and I wanted to give it a try. So I hope you enjoy this little break and if you haven't checked out Robin's blog yet, you can find her HERE!
---

🍁 Apple Picking: A book on your TBR that looks so delicious you can't wait to take a bite out of it! 🍁
Y'all know Kerri Maniscalco is an auto-buy author for me. I will throw my money at anything Kerri Maniscalco because I truly love her work and I think she is such a wholesome being. Plus, her content just fills my heart with all the spooky goodness. So when she announced this book, Kingdom of the Wicked, naturally I preordered… multiple copies… Do I worship at the alter of Kerri Maniscalco? Maybe a little, just a little!
---

🍁 Corn Maze: A book that's so much fun to get lost in! 🍁
If we're talking about recent reads, I have to pick the Wayward Children series, more specifically In An Absent Dream by Seanan McGuire. I loved getting lost in this world and following Lundy! I think this series is so easy to get lost in and would make the perfect autumnal read!
---

🍁 Haunted Houses: A book that scared you silly! 🍁
I wouldn't say it scared me silly, but it has been a while since I got chills up my spine because of a book. So, I have to recommend The Only Good Indians by Stephen Graham Jones. I feel like I've been hyping this book all year, but for me, this was such a brilliant read and I can't help recommending it to others!
---

🍁 Pumpkin Patch: The latest book you purchased! 🍁
I do have a few remaining preorders right now. However, the most recent book to actually be placed in my hands is Mexican Gothic by Silvia Moreno-Garcia. I'm so excited to have this book in my hands! It sounds so good, the author is stunning, and this is the October pick for the Dragons & Tea Book Club! So all around, I can't wait to start this in October!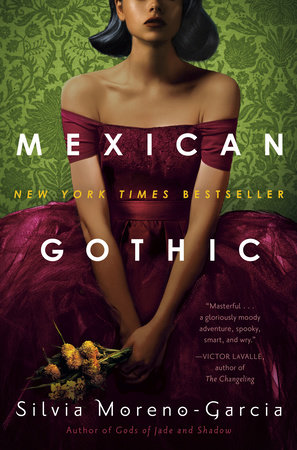 ---

🍁 Scenic Drives: A book that is lyrically beautiful! 🍁
I had to pick K. Ancrum for this! The way Ancrum writes, the characters she creates, everything is so beautifully woven together. I couldn't decide between The Weight of the Stars and The Wicker King, so I'm picking both!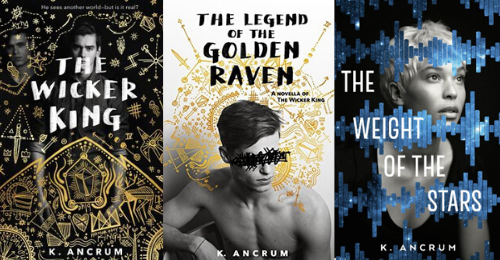 ---

🍁 Pumpkin Carving: A book you didn't like and wouldn't mind carving up! 🍁
I'm going to keep this short because I really disliked this book, The Wives by Tarryn Fisher.
---

🍁 Hiking: A book that was a highly enjoyable romp! 🍁
Hands down, Midnight Poppy Land by Lilydusk! This is a self-published creator on Webtoons which you can read this comic for free HERE!
---

🍁 Drinking Apple Cider: A sweet book to curl up under the covers with! 🍁
I'm going to have to say the Signs of Love series by Anyta Sunday! This is another self-published author who writes about LGBTQIAP+ romances. I have read the first three books in the series with one novella and have really been enjoying my time in this series. Scorpio Hates Virgo is the most recent review I have posted and let me just tell you, I read that book in two, maybe three days! It was so good and I think this is the perfect series to curl up with!
---

🍁 Jumping In A Leaf Pile: A book that reminds you of your childhood! 🍁
Every time fall rolls around, I spend half the season talking about The Halloween Tree by Ray Bradbury. I love this book for a plethora of reasons, some personal and some that hold dear memories. This is also one of my favorite movies to watch during the spooky season. For those who may not be a fan of the book, you might want to watch the movie. I feel like the movie clarifies things that the book doesn't. Ultimately, I loved both of these and once again, recommending that you pick this book and movie up for spooky season!
---

🍁 Scary Movie Night: Your favorite spooky read! 🍁
Okay, so I might not have one for this. Even though I grew up with my mimsy (my mother) who is a horror and thriller fanatic, I don't read a lot of horror and thriller. I think I'm going to choose a thriller that made it onto my top books of 2020 and that's When No One Is Watching by Alyssa Cole. I really enjoyed the audiobook of this book and I think this is going to make a lot of readers' favorites of 2020!
---

🍁 Bonus! Costume Party: A book with an eclectic cast of characters! 🍁
Hands down has to be Well Played by Jen DeLuca! I love the characters in this series, the small town, the sense of community, and of course, the Ren. Fest! There's so much I loved packed into the first two books and I think many lovers of Well Met are going to need this second book asap!
---
I had so much fun doing this little tag! I really had to think on some of the answers, but I'm so glad I was able to put this together. If you were thinking of doing this, consider yourself officially tagged! I hope you enjoyed this little detour of my usual posts. Tag yours' in the comments below! Until next time, may your fall season be spooky, stay hydrated, I love you! 🧡