Salutations Chapterlings! Did you notice? Yes, the fall theme has returned! I put a poll up to see when everyone would like see a change in the theme and a lot of people voted for September. And here we are! In September with the fall theme kicking in the door! Seriously though, August was a great month for reading just a lot of roughness. I'm hoping in September that things will start to turn around for me. I feel like September is going to be a chaotic month especially for reading (my tbr feels ambitious, to say the least). But I really hope I'll be able to read all of these, maybe participate in a readathon or two, and if I get really lucky, maybe squeeze in a few extras!
---
🍁Currently Reading🍁
🍁 Black Sun (Beneath Earth and Sky, #1) by Rebecca Roanhorse
October 13th, 2020 by Saga Press
I'm truly excited to be reading this. I have a fun little project that's in the works for my physical arc (so stay tuned for that). I can't wait to see everyone pick this book up this fall so we can discuss it together!
---
🍁September TBR🍁
🍁 The Storm Crow (The Storm Crow, #1) by Kalyn Josephson
July 9th, 2019 by SourcebooksFire
I'm making this pact now, I will get this book read before 2020 is over. I'm making it my mission, my goal of 2020. I had wanted to read this book so badly last year and never got the chance to do so. Now, it's at the top of my list.
🍁 Scorpio Hates Virgo (Signs in Love, #2) by Anyta Sunday
August 30th, 2017 by Anyta Sunday
I really enjoyed the first book in this series, Leo Loves Aries. Honestly, I didn't know what to expect going into this series. However, after the first book, I'm excited to continue reading on. Also, this is a self-published author. So I highly recommend look at the work this author has available!
🍁 A Princess in Theory (Reluctant Royals, #1) by Alyssa Cole
February 27th, 2018 by Avon
I have heard nothing but the highest praise for this series! I picked up the two and a half books in this series after hearing one of my dear friends gushing about it. Now, I'm making sure I'm setting aside the time to get this series started! I hear there's a new one coming out in the series soon, too!
🍁 Blanca & Roja by Anna-Marie McLemore
October 9th 2018 by Feiwel & Friends
For too long, this book has sat upon my invisible book shelf, waiting to be read. I've had this book for two years now and never got around to reading it. Well that's changing now! So many people have told me I'm going to fall in love with this book. So I'm making this book a priority for this month and hopefully I can get this read for the Latinx Book Bingo!
🍁 Cemetery Boys by Aiden Thomas
September 1st 2020 by Swoon Reads
Buddy Read with Robin at Paperbacks and Planners 🧡
I have been waiting for this book to release. I mean, it feels like an eternity waiting. That's okay! As soon as I have my copy, my dear friend Robin and I will be prepping for our buddy read of this book. I'm so excited to meet Yadriel and Julian. Also, I highly recommend checking out Adri's vlog of Cemetery Boys and their interview with Aiden Thomas, as well. They hyped me up just as much as Aiden did for this book!
🍁 Sia Martinez and the Moonlit Beginning of Everything by Raquel Vasquez Gilliland
August 11th, 2020 by Simon & Schuster Audio
I'm so very grateful to have an ALC of this book. Surprisingly enough, I haven't heard many readers talking about this book yet. So I'm hoping that will start changing soon especially because this book is ownvoices for the Mexican-American representation. It also talks about important topics such as immigration.
🍁 Tigers, Not Daughters by Samantha Mabry
March 24th 2020 by Algonquin Young Readers
Finally, I'll be sitting down to read this book! I haven't heard many readers talking about this book and this has been on my anticipated books of 2020 since December of last year. I'm truly hope I fall madly in love with this book. I think my expectations might be a little bit high, but I'm so excited!
🍁 Wotakoi: Love is Hard for Otaku , Vol. 1 (Wotakoi: Love is Hard for Otaku #1-2) by Fujita
April 17th 2018 by Kodansha Comics
Buddy Read with Kayla at Books and Blends 🧡
I'm looking forward to this manga so, so much! I get to read it with one of my dearest friends, Kayla! She's such a wonderful being and I feel so lucky to call her my friend. She has some of the best romance recommendations and with how our schedules have been, we both agreed we needed something that was light, fluffy, and something we know we'll enjoy. Plus, there's an anime series and we've already been plotting with that!
---
🍁Readathons🍁
This month is also bringing so many readathons! First, if you haven't heard that September is also #SapphicSeptember which is being hosted by Landice at Manic Femme, go check that out. I'm sadly not participating this time around, but if you're able to, definitely try to participate.
🍁 Latinxathon
🍁 Latinx Book Club
🍁 Latinx Book Bingo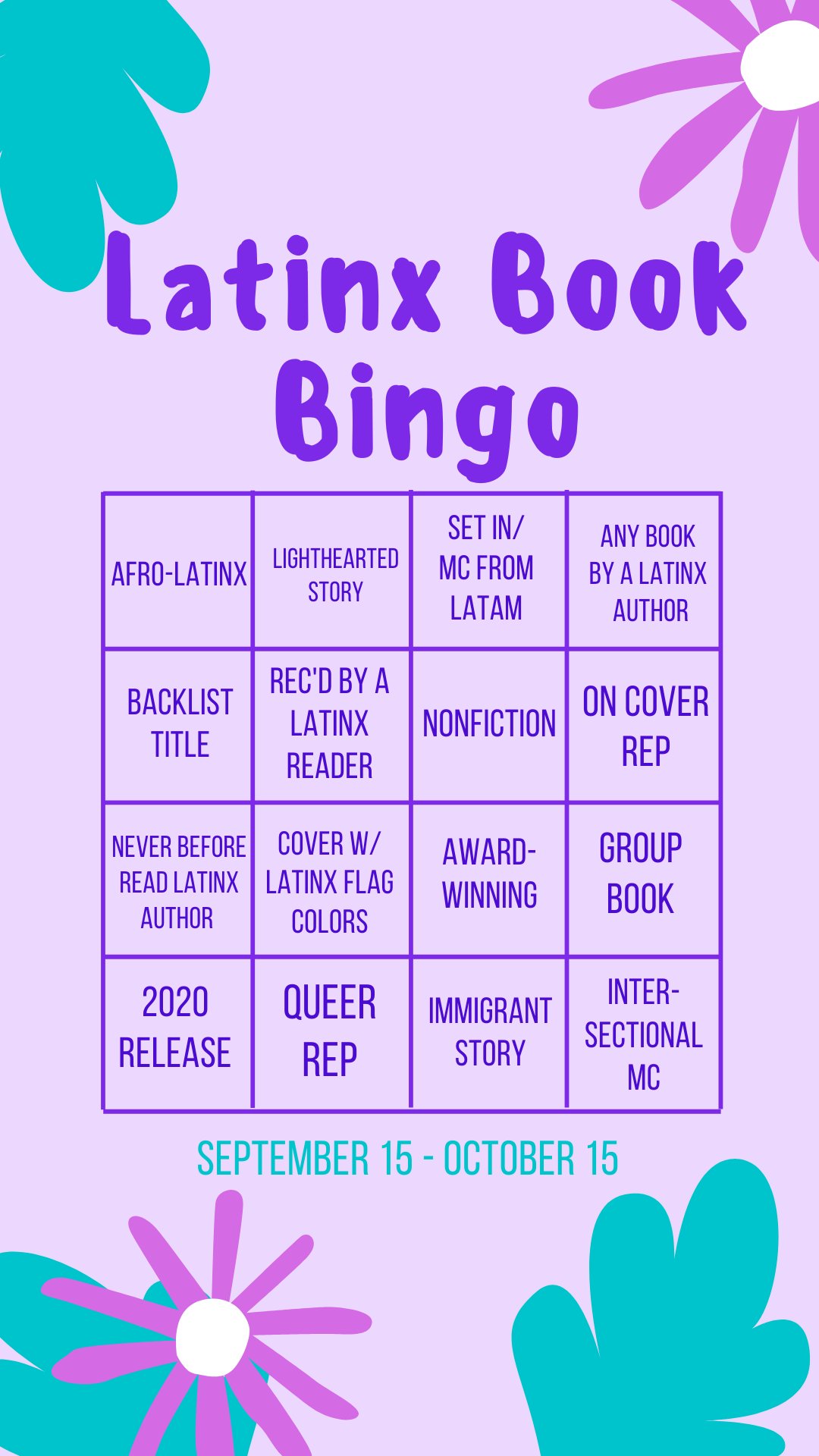 September 15th is the start of Latinx Heritage Month! I believe this runs all the way to October 24th. I'm hoping to try and fit some of the books I'm reading into the Latinx Book Bingo. We shall see how that goes. I have a feeling I'll get more accomplished during October than September, but fingers crossed, wish me luck!
---
September is going to be a busy month and I'm still hoping to leave room for any arcs/alcs that might come through. As well as leaving room for some books on my side tbr. Are you planning on participating in any readathons this month? Or what's the book you're looking forward to reading the most this September? Also, the fall theme is back and I'm so happy about it. I hope you all are happy to see it too! Until next time, I hope you're staying safe, I love you so, so much! 🧡