GoodReads|Amazon|Barnes&Noble|BookDepository|IndieBound
Content/Trigger Warnings: Content/Trigger Warnings: Loss of a parent, bullying, transphobia, medical examination difficultly, violence, oppression, abandonment
Friends, I have to say that I was really surprised by how much I fell in love with this graphic novel. I loved so much about this book from the the art style to the captivating story line, I really appreciate so many elements. This world is whimsical yet dangerous as a witch. You can also read this comic for free HERE!
Witchy is a graphic novel that takes place in the witch kingdom, Hyalin. Within this kingdom, the witches who live here are dependent on the length of their hair and depending on the length determines how powerful that witch may be. Thus, they take great pride in their hair length while those with shorter hair are often looked down upon. However, if a witch's hair is too long, the government within the kingdom will hunt you down and burn you to your death. There's also a school in this kingdom that teaches the youths to harness and develop their powers. These students are tested in their magical abilities, and if they complete all the tasks then they can be conscripted into the military guard to protect the kingdom. With this, many young witches and families see this as another great honor.
Yet our story doesn't follow someone who loves their kingdom or desires to be part of the military guard, we follow a young witchling called Nyneve, who has a very different view of things. After she saw her father burned alive for being a powerful witch, Nyneve has come to resent the government of the kingdom and is forced into hiding her long hair. With the day of the conscription getting closer and closer, Nyneve begins to worry that someone might discover her secret.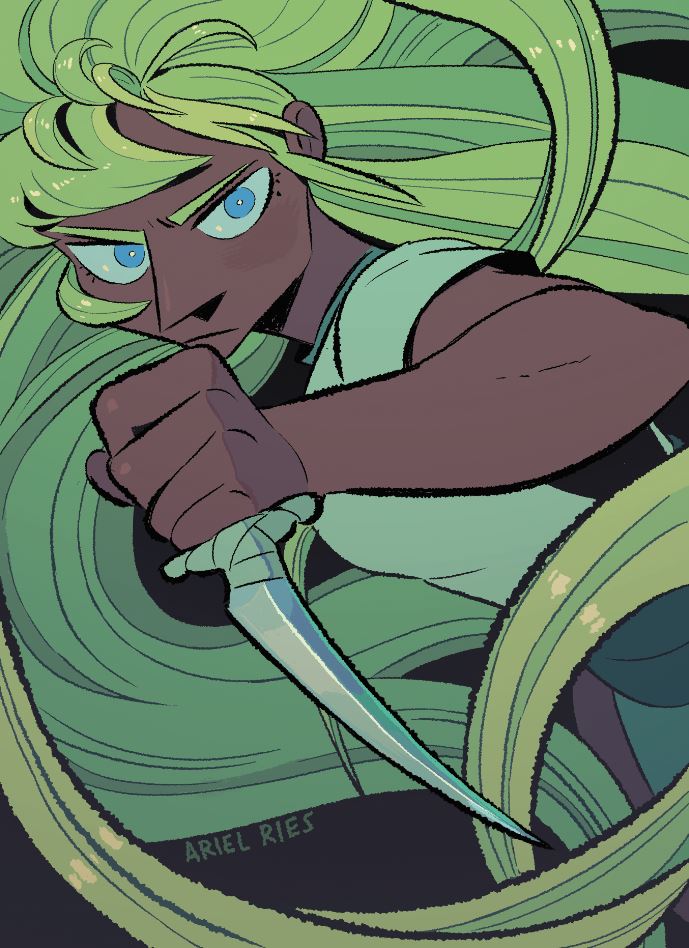 During this whole book we follow Nyneve as she tries to survive the conscription at her school, following the ramifications of her actions, making friends in the unlikeliest places, and a new journey to discover the truth of this kingdom. The world itself is vast and beautiful, as we shift from scenes like the country side to the city, all the way out into the forest. There's also some scenes inside an abandoned temple and you can tell just how much history the temple holds.
We also have a very diverse cast. For starters, the family dynamics with Nyneve and her mother. I've said this a few times in past reviews, but I have a super soft spot for books with a single mother household (I come from a single mother household). We also have many characters of color (I'm not fully sure, but I want to say most of them are South Asian), there's a transgender character (I have no doubt they're going to play a larger role), we also have multiple plus-sized characters featured throughout (but there are various body types featured throughout this book).
I also have to take a moment to appreciate a side character called Banana. They're a talking raven who ends up finding Nyneve in the forest. Their banter together is hilarious and even though he's a little ball of grumbles, all they want to do is help and protect Nyneve. It's so precious and I can't wait to see how they're role comes into play later on!
"If others pull you from the darkness, it's because they believe your life is worth living. Don't push them away because you don't feel you deserve it."
Overall, I truly loved this graphic novel. I don't want to reveal too much because I think any reader who picks this graphic novel up should go in without knowing too many details. I'm really curious to see what will happen next in this world. I want to know more and lowkey ship Nyneve and Prill together. And of course, I can't wait to see more of the hilarious banter between Banana and Nyneve. I love reading books that have characters who take their own destiny into their own hands to choose their own path. I have high hopes for the next installment and I hope you all give this graphic novel a chance!
Read for The Reading Rush 💚