GoodReads|Amazon|BookDepository|OfficialWebsite
Content/Trigger Warnings: Bullying, homophobia, guilt, talk of self-harm, eating disorder/disordered eating, scene of underage drinking
💕 Vol. One – ⭐⭐⭐⭐⭐
💕 Vol. Two – ⭐⭐⭐⭐⭐
"There's this idea that if you're not straight, you HAVE to tell all your family and friends immediately, like you owe it to them. But you don't. You don't have to do anything until you're ready."
How to make me smile, cry, rip my heart to pieces and put it back together in one sitting? Hand me a volume of Heartstopper. This series is everything and it hits super close to home. It turns my heart into a puddle every time I read it and it keeps getting better. I'm just sitting here patiently waiting for 2021 to come and deliver Vol. Four into my mailbox already!
As I always say, if you haven't started this series yet, what are you even doing! Go start it before you decide to read this. Unless you're someone who wants to spoil, even though I do try to keep this a spoiler free zone. Go check it out, you can read this comic for free HERE!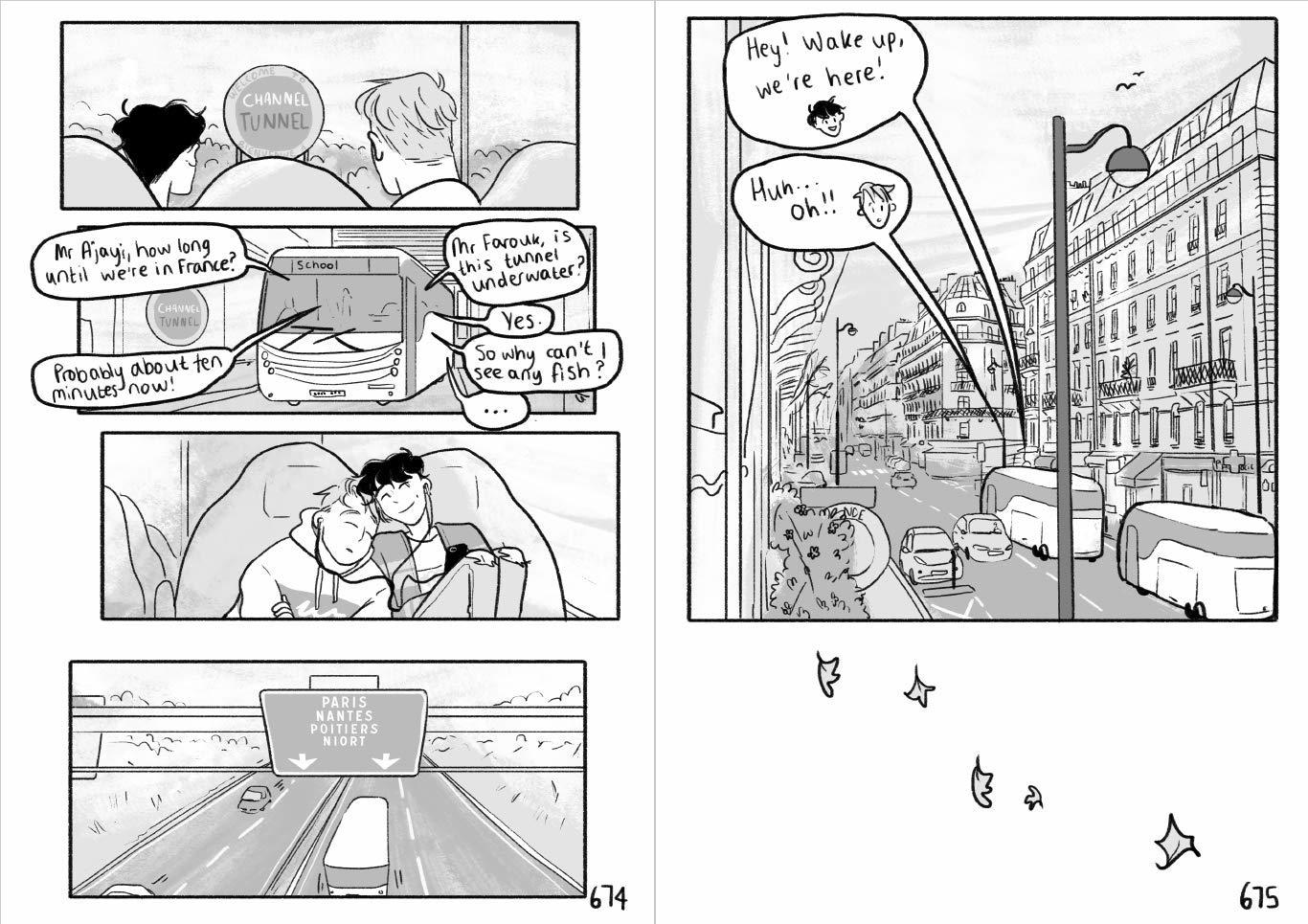 Volume Three is a bit of a divided comic. Half of this comic takes place near the end of the school year and then the other half is spent on a school trip to Paris. In this first half we see how Charlie and Nick go about handling their relationship while also being at school. But there's also many things Nick and Charlie tackle separately from each other. Nick ends up dealing with some homophobia inside his home and learning how to live with an un-accepting family member. Also, Nick reconnects with some friends that he closed out of his life and we see him struggling with coming out to them. Then we have Charlie who finally told his parents about his relationship with Nick. However, we also see him suffering from great deals of stress school wise and relationship wise. Charlie starts to show signs of burn out and mental strain which lead into a lot of other things coming to light later on in the book. Charlie also finds out one of his friends may have been the cause of his outing at school and how he's trying to mentally process this information before leaving on the school trip.
However, the majority of this book takes place during the school trip to Paris! This is where things start to get really heavy. This volume is centered very heavily around mental health. Please make sure you practice self-care while reading into this section. Even for me, I struggled reading through some of this because of my own coming out and mental health struggles. So definitely take care of yourself, fellow readers! During the whole trip Charlie, Nick, and the whole gang have a series of cute moments. From stealing kisses to their playful ways of trying to stay in, everyone gets up to some really adorable shenanigans. However, we see Nick struggle with trying to meet up with his father and we see his growing concern for Charlie. Charlie, on the other hand, is struggling a lot while in Paris and it really starts to show leading to concern from Nick. Charlie also confronts his friend and we see how both of them handle everything in the moment. There's also a really great moment shared between Charlie and Tara. We learn more about Tara and how she came out, we see how she and Darcy handled any homophobic backlash, and Tara starts to see how stressed Charlie is and offers some really good wisdom. The rest of this book as a whole was an intense wild ride packed with many emotions, feelings, and surprises.
Also, I have to talk about the teachers in this graphic novel because they deserve a spin-off series! We have Mr. Ajayi, the art teacher and Mr. Farouk, the science teacher. They had so many great moments in this book and I wish we hand more! Thankfully, Oseman thought of this and provided a mini comic for my two new favorite beans! I really loved the conversation both of them had at the vending machine and how sometimes you don't figure out your sexuality until later in life, when you're out of school, and much older. I think that's going to hit the mark for anyone who has had that experience and I hope this is the ground work for authors to bring this up in future books. I also liked how the mini comic also goes into further detail and builds off what we learn about Mr. Ajayi and Mr. Farouk in this book. I just need more from these characters and I hope we start seeing them a little more in this series!
Overall, I love this series and I love these characters! Oseman hits the nail on the head every time she releases a new panel or a new volume. I can't wait for the next volume to come out even if we do have to wait till 2021 for it to release. And hopefully we will get more mini comics because the cuteness overload is too much! And if you haven't started this series yet, definitely give it a try. These characters will have you falling in love and swooning over the whole series!