Before I start this article, I wanted to give a huge shout out to Mel from Meltotheany for inspiring this article! Last year she made a 2018 Gift Guide that inspired me to make my own list for 2019! Mel is a wonderful and amazing person, she's a beautiful soul in the book community, and if you haven't checked out her blog or any of her social media then you should change that! So thank you so much to Mel for being an inspiration and the content you put out into the bookverse!
---
Salutations Chapterlings! I'm here with something non-book related! I know it's a big shocker and to be honest, this article has been in the works since I started this blog and I'm really excited to finally be sharing this with you all! As the holidays draw nearer, you may be looking for last minute holiday gifts or if you're like me who firmly believes in the "treat yoself" method then this list could potentially be a solution for that! And if you have any doubt, just know that I love my books with my whole heart and soul, but I'm a human being who loves a lot of non-bookish things too. So here's what you can expect, this article will contain items that I have personally loved and enjoyed in 2019, and I recommend them with my whole heart! Now without any further delays, let's jump into the items!
---
Where are all my coffee drinkers at?! So I don't usually talk about it, but I will for this brief moment. I do work at Barnes & Noble inside the cafe portion and I'm going to be honest, I get sick of our coffee every once in a while. It has reached a point where all the drinks taste the same whether hot or cold. Now here's where Bones Coffee comes into play! They are my saving grace! When I need a break from all the other coffees in my life, Bones Coffee is there for me. They have a wide variety of coffee flavors such as Bluesberry, French Vanilla, they even have a flavor called Maple Bacon! There is something for everyone in their shop! My own spouse even found a coffee that tastes like Fruity Peebles! I'm so thankful that a company like Bones Coffee exists!
---
Okay, so I had to include something that was bookish because I'd be lying if I said I wasn't head over heels for these bookmarks. Jemlin Creations brings to life so many beloved characters from t.v. shows to books! I have seen Game of Thrones all the way to characters from The Mortal Instruments series, there's just so many fandoms that come to life through the incredible artwork. There's even book sleeves with the gorgeous artwork to hold all of you books. Anyone and everyone can find something they will love and a fandom they adore. Plus, Jemlin Creations is a small business and I love to encourage others to buy from smaller businesses this holiday season!
---
🎄 Giant Inari Fox Meowchi Plush
I love these things! I use these giant cat plushies for so much! I use them for back support when reading in bed, I use them as a pillow, I will use it as a squishy desk to take notes, I use them as bed decor, etc… I literally use these for everything. I even use them for my anxiety and panic attacks as well as for having conversations with my spouse that revolve around my stressors. I'm a very hands kind of person meaning I talk with my hands, if I get too stressed or anxious I will start picking at the skin around my nails, or I'll end up clenching my hands too tightly that my knuckles will start to bruise. So to get better with that I use these giant cat plushes to help with my communication when under extreme anxiety or stress. It has been a blessing in disguise and I made sure to buy one that serves as multi-purposeful such as ones like the Inari Fox, not only is it velvet soft but it also has bells on it's tail. Since I'm very touch and sound oriented, this provides with something soft, but also provides a small sound that isn't too loud or bothersome.
---
Recently this year I've been struggling to really relax and focus on many things happening in my life. Severe stress and anxiety have been hitting in full force this year and while I normally use ASMR to calm myself, I acknowledge that not everyone likes ASMR or is soothed by ASMR. So I spent quite a bit of time digging around and bouncing around to find sounds and music that are still soothing, but also help take a lot of the nerve racking I felt. That's where Cafe Music comes in. I'm so glad that I found their channel because I never saw jazz music as a way to unwind and relax before. The more I started listening to a lot of their videos, the more it helped me with focusing on that tasks I've needed to completed. So if you or someone you love needs a way to relax, unwind, or refocus then I recommend Cafe Music!
---
Okay, apparently I'm not done talking about bookish things, but I would be lying if I didn't say this hasn't helped so much! I like to keep things organized and sometimes it's really hard to find a place to put my TBR or visually put together books I really want to read. This cart has allowed me to stay organized and has really helped with putting a visual of books I really want to get to. I also use the bottom tier for my go-to props that you see in a lot of my Instagram photos. I find this cart super helpful and even if you don't buy this for book purposes, any college student can use something like this in their dorm!
---
🎄BT21 RJ Bon Voyage Glitter Tumblr
I'm constantly on the go and constantly on a schedule that requires me to have a lot of caffeine and water in my body to be a functioning person. I have a lot of tumblrs, but since discovering BTS back in spring, I wanted to have a BTS tumblr to kind of make my day a little brighter and better. I also have the Koya one as well. I love both of them and there have been times where these have perked me right up. So if you need something fun, something practically, but you need something for a BTS fan then I can't recommend this item enough with my whole heart and soul! ❤️
---
🎄Harney & Sons Blueberry Green Tea
While I do drink coffee, a lot of coffee, I also drink a lot of tea. Not many people would know that I drink a lot of tea because they only see me with coffee, all the time. However, if you were to open my pantry, you would see endless tea, but you would see multiple tins of the Harney & Sons Blueberry Green tea! I love this tea with my whole heart and soul! It's my go-to when I want to just sit in the quiet for a few moments, it's the one I usually get when I'm at work when I need to unwind, I even got my spouse hooked on this tea in particular. During the summer we made three full pitchers with some raw sugar added, some raw honey we got from local farmer's market, and added some mint leaves into the pitchers. Stirred altogether, this was the perfect drink for the summer time! But I don't just drink it during the summer, I've also been drinking it a lot in the fall and I'm even having a cup right now! I think this would be a great tea to introduce to those who not only love tea, but aren't often tea drinkers. It's a really nice blend and it's not too overwhelming like some teas can be. I can't get enough of it, my spouse loves it, and I can't stop recommending it to friends and family.
---
In this house we drink hot coco with marshmallows in it! Or at least we did until we discovered snowflake marshmallow toppers! Would you be surprised if I told you I never knew marshmallow toppers were a thing until a huge box was delivered to my department at work? Well that's exactly what happened. I never knew these were a thing until that one fateful day at my work. Once that happened, it was a game changer for my hot coco. Before we only used mini marshmallows, but when we used up all our minis for a rice krispies recipe, well we needed a solution that didn't involve cool whip. So I brought a couple of marshmallow toppers home and now we use them, a lot. If you need something fun, but also yummy then I definitely recommend giving these a try!
---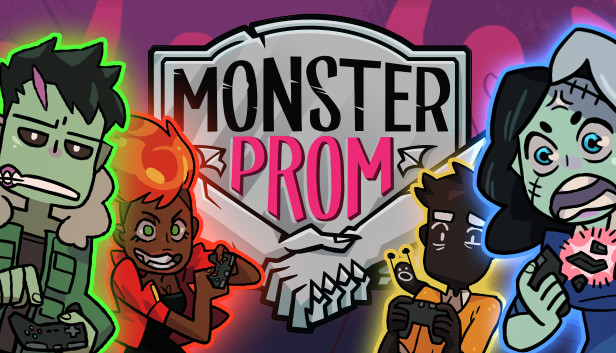 If you're like me, who's surrounded by gamers and is a gamer myself, then Monster Prom is the game for you and everyone else! I have been playing Monster Prom nonstop! I have given this game to so many people as a gift, I have roped my spouse into playing this game, and I even became a backer for all the upcoming content that's coming to this virtual world! Monster Prom isn't like other dating sims, it's so much more than that. There's secret endings and story lines, there's so much funny content, and when it comes to choosing the character you want to play as they have a non-binary options (this is literally the first time I have ever seen this in a dating sim). This game is literally open and welcoming for all to play and I just love this game whole lot. This is a game of bizarre nonsense, but you'll still have fun no matter what!
---
🎄Ferrero Raffaello Almond Coconut Candy
Recently this year I discovered these amazing chocolates and I fell madly in love with! Ferrero Rocher is one of my favorite chocolate brands and I always try to share them whenever I get some. Back in February, however, I got a mix of Ferrero Rocher chocolates and these specific candies were in the mix. Since then I have been obsessed and I pick up a box whenever I go to the store. I love coconut and I love all types of nuts, so this was the perfect treat. I highly recommend these chocolates especially if you never knew these existed like me, but if you're allergic to coconut or almonds/hazel nuts then I strongly suggest staying away from these as it could lead to a potential allergic reaction.
---
Okay, friends! Those are all my favorite items that have been making 2019 more magical and more of a easy going year. I hope you all enjoyed this list and I hope it has made your last minute holiday shopping a bit easier. Please feel free to let me know down below some of the things you've been enjoying in the year of 2019! And as the holidays approach more rapidly, please be safe and have a wonderful time! Until next time, may the end of December bring you many blessings, I love you! 💙