I was nominated by the lovely and wonderful Emer who always tags me in these wonderful awards! She is so wonderful and kind to always think of me for these things and I'm very grateful. If you haven't checked out Emer, you can check out her amazing blog HERE!
❄️What is The Awesome Blogger Award? ❄️
The award was created by Maggie @Dreaming of Guatemala. This is an award for the absolutely wonderful writers all across the blogging world. They have beautiful blogs, are kind and lovely, and always find a way to add happiness and laughter to the lives of their readers. That is what truly defines an awesome blogger.
❄️The Rules! ❄️
❄️ Thank the blogger who nominated you (that's the fabulous Lauren!!! Thanks again Lauren!)
❄️ Credit the creator
❄️ Tag this post with #AwesomeBloggerAward
❄️ Answer all the questions given to you
❄️ Nominate some people
❄️ Write 10 questions for them to answer
❄️ Questions by Emer!
❄️ Do you prefer Bookstagram or Book Twitter? Share your social links.
So I actually use both! I do enjoy both because I do follow a lot of my favorite content creators and authors. I do have both links on my blog, but here are the links for Twitter and Bookstgram!
❄️ Do you listen to music while listening? Or have you a favourite song that you associate with a particular book?
So, I have made playlists for some of my favorite books such as There Will Come A Darkness by Katy Rose Pool and Shadow of the Fox by Julie Kagawa!
❄️ What would you like to be remembered for?
I think the biggest thing friends and people associate me with or remember me by is my empathy/sympathy and life wisdom.
❄️ Who is your favourite musician/band/singer?
Oh look! I just so happen to have the latest album by Skrux right here! Huh, that's so weird! You should go listen to it!
❄️ Who or what are you most grateful for in life?
Dang! Hitting me with all the really hard questions! I'm grateful for so much and blessed with so much. I always make sure I'm aware of that and I'm constantly saying how grateful I am for my loved ones and for those who have changed me or impacted my life whether it was good or bad. And I'm also grateful for all of YOU! Yes you, dear reader! Without your love, your support, your enjoyment of my content then I probably wouldn't have my blog or my bookstgram or my other dedicated social media to my love of books. So thank you to all of you who are reading this article, who read my new content, who have supported me on this journey, to my loved ones who may be reading this right now! Thank you all from the bottom of my heart! ❤️ I know I say it a lot, but let me say it even more because you can never say it enough; thank you, thank you, THANK YOU! ❤️
❄️ What is your favourite book to film adaptation?
Oh no, oh no, no no! I think there's literally only one film that I truly enjoyed that has been adapted into film.
❄️ What are your hopes for your blog in the next year?
Honestly, I just hope my blog keeps growing and more readers stumble upon this little blog. This journey has been incredible and 2019 has been such a wild ride of a year. From hitting my second year on Boookstgram all the way to starting this blog, it has been a remarkable journey and I'm so blessed and grateful for all of those who have jumped on this boat with me. To watch me bloom and to watch my love for books come alive. I'm excited for everything 2020 holds because anything is possible and I have so much planned for 2020, so many surprises and I truly can't wait!
❄️ You are going away on a relaxing holiday for a week. Where would you go and what five books would you bring with you to reread?
This is so hard! First, I would travel to either Alaska or I would travel to Japan! Okay, okay…I cheated and had to go to my GoodReads and check out some of the books I've read in the past. So I think I have them narrowed down! In order…
❄️ The Girl from the Other Side: Siuil, A Run Vol. 1 by NAGABE
❄️ Lore Olympus by Rachel Smythe
❄️ Wicked Saints (Something Dark and Holy #1) by Emily A. Duncan
❄️ Dream Daddy #5 by Josh Trujillo & D.J. Kirkland
❄️ Check, Please! Book 1: #Hockey by Ngozi Ukazu
❄️ It's nice to be important but it's important to be nice. What is the nicest thing someone has ever done for you?
Jeez, all the hard questions! Okay, okay! I'm about to get really soft and sappy, so just remember that you asked about this. I think the nicest thing anyone has every done for me has been from my spouse. I try to keep certain lines drawn between my personal life and my online presence, but I always like to be honest and as open as I possibly can with all of you. So what I'm about to say I still get choked up about and it's still very unbelievable for me to wrap my head around so I don't often think about it because how it impacts me. The nicest thing anyone has done for me has been my spouse loving me, choosing me, and marrying me. And many of you might be saying, "How is that the nicest thing someone has done for you?" I come from a very rough and brutal past, to the point that I learned at a very young age how cruel the world and people truly can be. A lot of my relationships I had gotten into had been very toxic and abusive. When I met my spouse, it was at a point in my life where I was picking up all the pieces and putting everything back together. When they came into the picture, for the first time outside of family and friends, someone saw me, wanted to be with me, and love me for me, scars and all. It felt for the longest time that I had been holding my breath and then suddenly someone told me I could take a breath. Seven years later and we're still together, and I still can't wrap my head around it all. It's like that scene from Lilo and Stitch where Lilo asks for an angel. It kind of feels like that.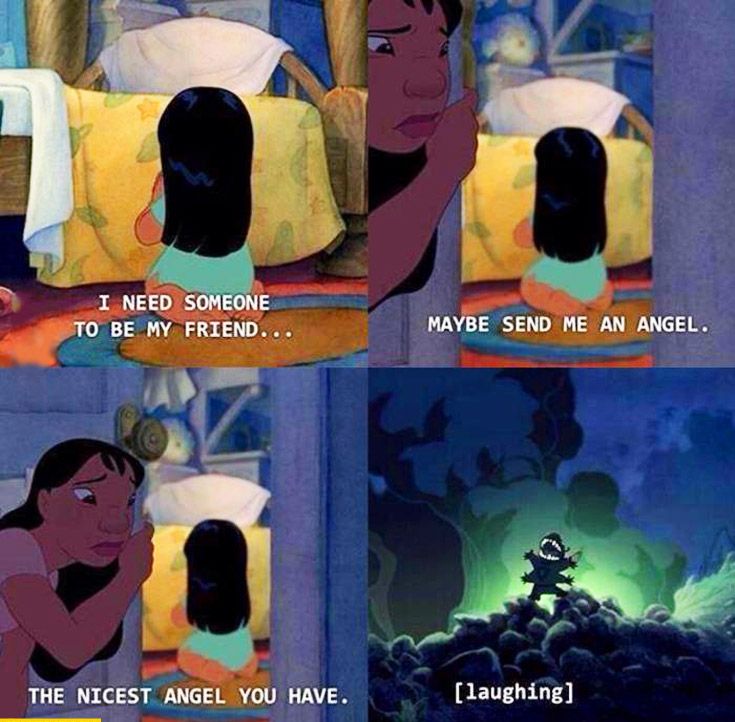 ❄️ How many books have you read so far this year?
Well according to GoodReads, I have read 94 books so far this year! But don't count it over yet, we still have a few more weeks before the year is over and I have accepted the challenge!
---
And those are all the questions by Emer! Holy ghosts were they hard and that second to last one really knocked the wind out of me. I'm still crying, and I'm still soft and emotional from it. But those are the questions and make sure you go check out Emer's blog! She posts really amazing content and she just a beautiful soul of a person!
❄️ Nominated Blogs! ❄️
❄️ Donna
❄️ Kayla
❄️ Robin
❄️ Lauren
❄️ Kat
❄️ Molly
❄️ Jessy
❄️ Emer
It's okay if tags and awards aren't your thing. No one should feel obligated to do this tag unless they want to.
❄️ My Ten Questions for those Tagged! ❄️
❄️ It's late at night and you're looking up at the stars when you see a shooting star, what wish would you make in that moment and why?
❄️ What are you top five books on you holiday wish list this year?
❄️ Aside from books, what are some of you greatest passions? List six!
❄️ Since it's the holidays, let's get festive! Tell me your top five favorite holiday movies to watch this time of year!
❄️ If you had a spirit animal, what animal would it be and why?
❄️ If you got to be any Disney character for a day, who would it be and why?
❄️ Let's talk about underrated books! What are you top five choices for books you think are underrated or barely hear anyone talking about?
❄️ Tell me about the first book you fell in love with! What book was it and what made you fall in love with it some much that you can't seem to forget it!
❄️ As the end of the year quickly approaches, what are three things that you're hoping 2020 will bring?
❄️ What are your top five favorites scents to smell?
---
Okay, readers! I think that wraps everything up for this article! I hope you all enjoyed and even if you weren't tagged, feel free to tag yourself! I would love to hear your answers to my questions and feel free to tag me! I truly do enjoy doing these and I'm so grateful that Emer constantly thinks of me for these! But anyway, that's a wrap and I hope you all are having a wonderful December so far! Until next time, may your TBR be filled with five star reads, I love you! 💙